Types of Locks
In the United States, a home burglary happens every 18 seconds, resulting in an average property loss of more than $2,000.
Scary, isn't it?
But, what if there was a simple way to improve your home security and lower your risk of a burglary — without installing a security system?
Don't get us wrong — a high-quality security system is an effective way to protect your home and valuables. But oftentimes, when homeowners are thinking about safety and security, they overlook an equally important form of protection — their locks.
A good lock can make all the difference when it comes to protecting your home or even your business. But a good lock is only good if it's being used correctly.
The 6 Types of Locks
To use a lock correctly, you must first understand that there are many different kinds out there. Different locks are designed for different purposes, which means certain locks are best for homes and other locks are better for businesses. There are also different levels of security offered from variations in each category.
By understanding how a lock is designed and what it should be used for, you can make wise choices that will better protect your home and business. So, what are all the types of locks?
Padlocks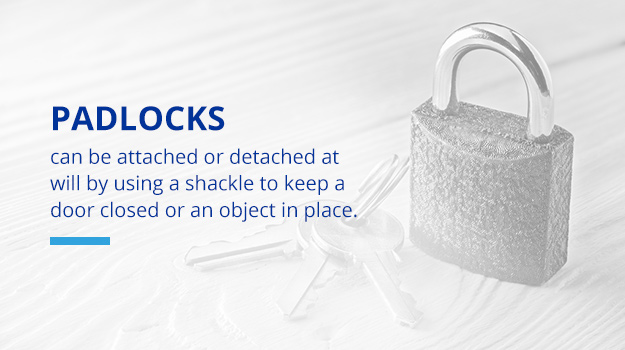 Padlocks are not embedded into a door or piece of furniture. They can be attached or detached at will by using a shackle to keep a door closed or an object in place. These are often used to lock sheds, school lockers and even luggage. While padlocks are common, they are also considered to be a relatively weak lock because it is easy to break them if you have access to bolt cutters, a drill or a hammer. They are also easy to pick.
In general, there are three kinds of padlocks in use today:
1. Combination Padlocks
These padlocks are unlocked by entering a set series of numbers into the lock which means, in theory, it can only be unlocked by someone who knows the correct numerical sequence. The numerical sequence can also be reset to keep the code secure.
2. Key-Based Padlocks
Similar in appearance to combination padlocks, these locks are opened with a small key rather than a numerical sequence. While some people prefer not needing to remember a set of numbers to access their belongings, there is a risk of losing the key because they are typically quite small. While some key-based padlocks can be re-keyed, this isn't true of all models, so if you misplace the key, you may end up having to break the lock to gain access to whatever the lock is protecting.
3. TSA-Approved Locks
Many travelers prefer to lock their bags with a padlock when they check them in before a flight. The problem is that sometimes TSA needs to open bags and suitcases to inspect the contents. Since this inspection often happens after bags have been checked, their owner is not nearby to open the lock. In the past, this has resulted in TSA needing to cut the lock to complete an inspection. To prevent this, TSA worked alongside several lock companies to create a special padlock designed to correspond to a special master key that is only held by TSA representatives.
Deadbolts
A deadbolt is a mainstay in home security because it is harder to pick than a standard knob lock or padlock. Many are designed as cylinder locks which are identified by a cylinder that surrounds the lock itself and runs through the door. Cylinder locks are designed to correspond to one specific key. They cannot be opened without the key that is designed to fit into the sequence of the pins held inside of the lock.
Deadbolts can either be installed on the surface of the door — think of a bolt that slides from the top of the door itself into a casing secured into the door jam — or it can be installed inside of the door for greater security. The internal deadbolt is more common because it is more secure. It also has more variations.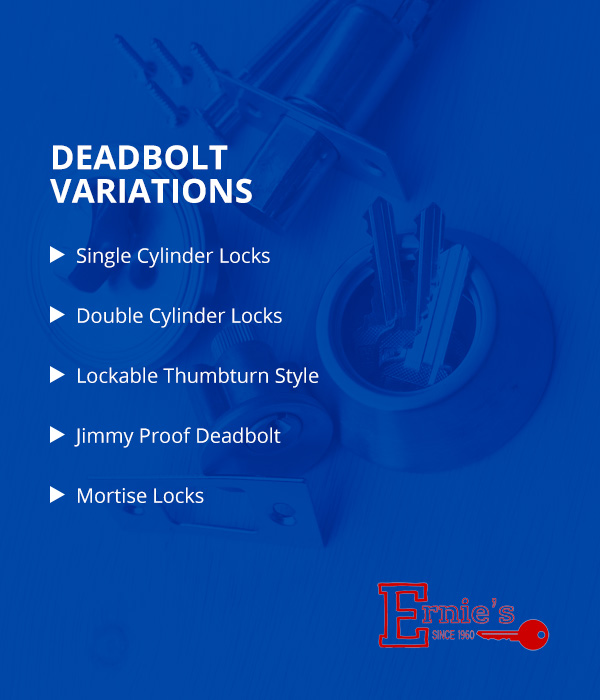 1. Single Cylinder Locks
Today's most common deadbolt, a single cylinder lock is mounted inside the door. It has a twist knob to lock it from the inside and then has an exterior cylinder that requires either a key or a code to unlock.
2. Double Cylinder Locks
Similar to the single cylinder lock, a double cylinder lock is mounted in the door itself. The difference is that, rather than having a twist knob on the inside, a key is needed to lock or unlock the door from both the inside and outside. In some ways, this is safer because it prevents a burglar from breaking a piece of glass in your door or a nearby window to reach in and unlock the deadbolt from the inside. However, some argue that this type of lock can be somewhat of a fire hazard because it of the extra time it takes to find the key and get out of the house in event of a fire.
3. Lockable Thumbturn Style
This style combines the best of both the single and double cylinder lock. The exterior side of the lock can only be unlocked by a key. The inside includes a thumbturn knob that also has a keyhole. When you're home, you can leave the thumbturn unlocked and the door will operate the same way a single cylinder would — locking only when you throw the twist knob. The thumbturn can only be locked and unlocked with a key, adding an additional layer of protection when you're away from home.
4. Jimmy Proof Deadbolt
Also known as a "Vertical Deadbolt," this lock is commonly used on double doors and apartment entry doors, Jimmy Proof deadbolts employ two interlocking vertical bolts. When the lock is engaged, those bolts go into a strike plate. The benefit of a Jimmy Proof deadbolt is that it's easy to install and difficult for potential burglars to open because it can't be disengaged by prying apart the doorframe. Some models even have a way to lock the lock itself so that you can't use a key to gain entry from the outside. This prevents a burglar from picking the lock while you're at home.
5. Mortise Locks
Mortise locks are often thrown into a category of locks called Rim Cylinders, although the two are slightly different. The reason they are often classified together is that these two locks perform very similar functions, acting as both a doorknob and a deadbolt. The downside to Mortise Locks is that they are installed by cutting a pocket into the door, which can weaken the integrity of the structure, although some say that the strength of the lock makes up for the weaker door. They are generally found in older doors and used because they fit into the aesthetics of older homes.
Locks in Handles
Locks in handles can be found on all sorts of doors — both internal and external — but their strengths and weakness can make one better than another depending on where you use them.
1. Knob Locks
Knob locks are the locks you see on doorknobs all over your home. On one side is a small knob that turns to lock the door from the inside. What's on the other side can vary, but typically it will house a small key cylinder. When used on an exterior door, these should always be used in tandem with a deadbolt of some kind because knob locks are easy to break or pick, and they do not provide a significant defense against a burglar.
2. Lever Handle Locks
Lever handle locks are similar to knob locks because they have a small knob on one side and then a key cylinder on the other. They are often used on interior doors in commercial buildings because they are easy to turn, and they comply with the regulations outlined in the Americans With Disabilities Act. Also like knob locks, lever handle locks are a poor line of defense against intruders. If used on any exterior doors or in locations with sensitive information, they should always be used in tandem with a deadbolt lock.
Euro Profile Cylinders
Widely used across Europe and other places around the world, these locks have found their place in the United States on sliding glass doors or on interior doors that divide two rooms. These locks are generally considered to be a poor line of defense against potential intruders because they are particularly prone to lock snapping, especially if the lock is not the proper length for the door system it is meant to protect.
1. Single Euro Profile Cylinder
The Single Euro Profile Cylinder activates the locking mechanism by using a key on the interior side of the door to engage the lock. It cannot be unlocked from the outside.
2. Double Euro Profile Cylinder
The Double Euro Profile Cylinder can be locked or unlocked on either side by a key.
3. Thumbturn
The thumbturn uses a thumbturn on one side and has a keyed lock on the other.
Furniture Locks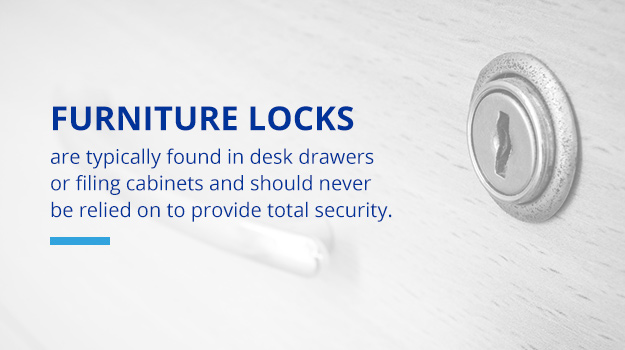 A furniture lock is exactly what it sounds like — a lock used on a piece of furniture. Typically, these are found in desk drawers or filing cabinets.
These locks should never be relied on to provide total security all of the time. The quality and durability of these locks vary, so if you are attempting to store valuable items or highly sensitive information, these locks should be used in conjunction with other more effective locks on the windows and doors of the room where your furniture resides. Two kinds of furniture locks are typically used:
1. Push Button Style
When this type of lock is secured, there is a rod that comes out of the back of it that anchors it into place. When you use a key to unlock it, the front part will pop out, bringing the rod back into the mechanism so that you can open whatever drawer or cabinet was held shut with the lock.
2. Bolt Style
With a bolt style lock, a flat metal piece comes out from the lock to anchor it in the locked position. When the key is inserted and turned into the lock, the flat piece retracts to open the drawer.
New Lock Technology
These days, technology is involved in every area of our lives, and, now, it's even at our doorstep. Thanks to new technology, your home or business can have locks that are controlled by more than just your keys.
1. Smart Locks
Smart locks are tied into your home's WiFi network. You can log into your system from anywhere to push a button or issue a command for your doors to lock or unlock. The great thing about smart Locks is that if you are out and realize you forgot to lock your door, you can simply push a button on your phone and correct the problem. Some smart locks also come with camera features that allow you to see who is on your doorstep before you unlock the door.
2. Electric Locks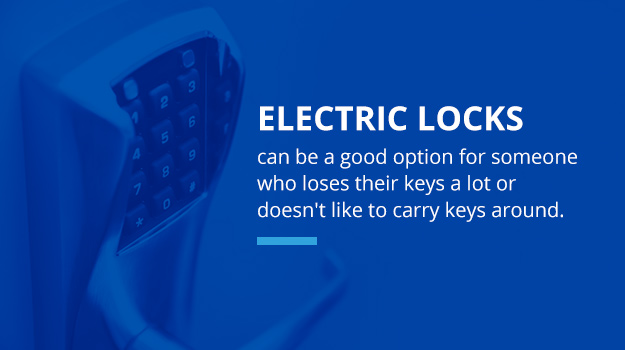 An electric door lock is similar to the electric locks on cars. Inside of the locking mechanism is an actuator that connects the cylinder of the doorknob to a small motor inside of the door or frame. When a numerical code is entered, the actuator communicates with the motor and the door is unlocked. Electric locks can be a good option for someone who loses their keys a lot or doesn't like to carry keys around. The downside to an electric lock is that it doesn't work if the power fails. However, most models have a traditional key option included in them so that you can bypass the keypad if needed.
Types of Keys
Just as there are many different kinds of locks, there are also several different kinds of keys designed to make your locks — as well as your home or business — safer.
1. Dimple Keys
Dimple keys have two sets of dimple-shaped cones on the body of the key that are designed to correspond with sets of pins inside the lock. These keys are nice because they are the same on each side, which means the key doesn't have to be oriented in a specific way for the lock to be opened.
2. Double-Sided and Four-Sided Keys
The terms "Double-Sided" and "Four-Sided" refer to the number of teeth in the key. Keys with four sets of teeth are more durable than their double-sided counterparts, and the extra sets of teeth also make their corresponding locks more difficult to pick.
3. Tubular Key
This tube-shaped key is often used for locks on bikes or vending machines. The tube-shaped key corresponds to a tubular pin inside of the lock. When inserted into the matching tube, the lock is opened.
4. Skeleton Key
"Skeleton Key" is a term used to refer to types of keys that can open any lock in a particular category.
About Ernie's Lock and Key Services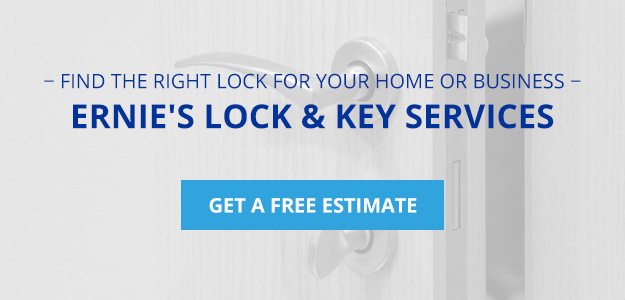 Finding the right lock for your home or business is one of the best things you can do to protect the people and assets that are important to you. Let Ernie's Lock and Key Services help you select and install the right locks for you. With more than 50 years in the locksmith business, our staff provides prompt, professional service in Riverdale Park, Prince George's County and the surrounding areas. Contact us today for a free estimate.