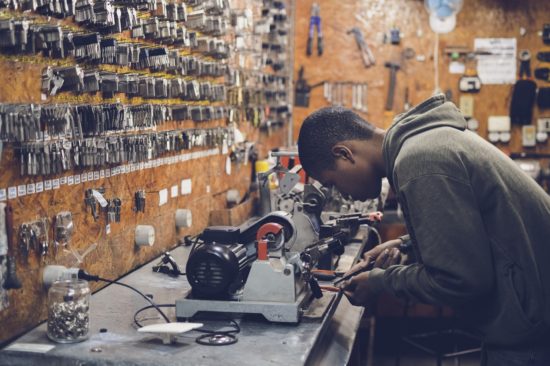 Key Duplication Service & Custom Key Cutting in Maryland
Need to replace a set of keys that have been lost or damaged? Need a spare for visitors? Ernie's Lock Company, Inc. can help. Based in Riverdale Park, we are one of the oldest locksmiths in the Prince George's County region. Since 1960, both commercial and residential clients have made us their first choice in custom key duplication. We offer fast, professional service, fair pricing and longstanding key cutting expertise.
We are able to duplicate any kind of key, whether it's for your home, your car, a security safe, your mailbox or anything else. We can work on difficult-to-copy items such as condo keys, skeleton keys and more. We even provide duplication service for vintage and one-off keys, such as those found on antique furniture, briefcases and chests.
Where can you go to cut a key?
Your local locksmith – An expert locksmith should be the only person you trust to perfectly cut your key the first time. Visit your local locksmith for the most accurate custom key copy.
Hardware store or another retail store – Although other places have the equipment necessary to cut a key, they do not have the expertise a locksmith has.
Automated machines, like KeyMe – DO NOT trust in these automated machines to cut your keys. You are putting your security at risk when using these machines. Learn more about the Dangers of KeyMe.
Why Should a Locksmith Cut Your Keys?
Plenty of hardware stores and other retailers offer key cutting services. Here's why you should only trust a licensed locksmith with this important task:
A locksmith will get it done right the first time — no fussing with stiff keys or risking being locked out
A locksmith is bound to the highest ethical standards and can be trusted with your house or car keys
A locksmith can duplicate hard-to-cut antique keys and other specialty key copies that most hardware stores can't
A locksmith will often provide convenient mobile or remote service
For these reasons and more, count on Ernie's for all of your key duplication needs. We can cut you an extra key for your home, business or apartment while you wait. We can also quickly turn around larger orders for commercial clients — give us a call to request a quote.
The Leading Key Cutting Service in MD
We are the choice of demanding homeowners, businesses and property managers when it comes to key duplication services in MD. Where can you find us? Located in Prince George County, we can service Riverdale, Baltimore, Washington D.C. and all surrounding areas. Contact Ernie's Lock for your custom key cutting. Visit our service area page. Stop by and have a custom key copied today, or get in touch directly to request a quote for a special project or large order.