What Is KeyMe – Your Guide to Automated Key Duplication Services

Your life is fast-paced. You spend time at home and work and complete a million tasks in between — whether that's picking up the kids, running errands, making appointments or something else. Amid all the bustle, it's easy to lose a key or get locked out of your home. What's not so easy is dealing with the aftermath while the rest of your life barrels forward.
The need for a quick key duplication service near you is never more apparent than when you're locked out. Companies like KeyMe have answered the call with automated duplicate key maker machines placed in strategic locations. Though an automatic duplicate key maker is useful, it may not be a one-size-fits-all solution as advertised. Let's take a look at the KeyMe model to see why you may want to think twice and call a locksmith instead.
What Is KeyMe?
KeyMe is a New-York-based company founded in 2012. As a self-proclaimed "locksmith in a box," KeyMe will strive to provide a duplicate key maker near you when you need it most. If you've ventured into a Rite Aid, Kmart or 7-Eleven store in the Baltimore, Maryland and Washington, D.C. area, you may have noticed a KeyMe machine. KeyMe kiosks enable you to make duplicate keys on the spot, which is supposed to save you a trip to the locksmith.
KeyMe provides an easy, convenient method for producing spare keys for your home, business, car or just about anything else that requires a key. They also allow you to create copies of RFID key cards or key fobs. These devices use radio waves to store and read information on a tag. Depending on where you live and work, your apartment or work building may use an RFID tag to allow access into certain areas.
How Does KeyMe Work?

KeyMe promises to make copies of your keys in a flash, but how does it deliver? Currently, the system uses a combination of kiosks and a mobile app.
The Kiosk
When you visit an automated KeyMe kiosk, the machine will walk you through how to copy a key. Here's a summary of what might unfold as you use the service:
The kiosk gives you options for different key types to duplicate. The selection includes standard keys, high-security keys, vehicle keys, RFID tags and key fobs.
Once you select the option you desire, the machine will prompt you to place your key in a designated slot.
The KeyMe kiosk will then use a complicated algorithm to optically scan and interpret your key's data.
If you've selected a standard key option, the machine can cut the key immediately.
For more specialized keys, the machine will tell you the replacement key will need to be shipped to your home within a few days.
After you print your key or order a copy, the machine will prompt you to make an account to store the key's information. This is where the KeyMe app comes into play.
The App
In addition to making instant copies of your keys, the KeyMe kiosk enables you to create and store digital copies of your keys for future duplication. The downloadable KeyMe app allows you to digitally store your keys on your mobile device, which produces a code that's stored in the cloud. You can use the code to order new keys and have them shipped to you, or you can share it with anyone who may need access to print a spare key.
Pros of Using KeyMe Kiosks
There are just a few pros to choosing an automated key duplication service. The first is that they are relatively instantaneous. While no locksmith or automated key maker is truly instant, you can have a replacement in about 15 minutes. Another pro is that in the event of a lockout, you can cut a new key using their app. All you need to do is drive to the kiosk to pick it up. Although these benefits of KeyMe kiosks sound great at first, the cons of KeyMe far outweigh the pros.
Cons of Using KeyMe Kiosks

There are also several downsides to using the automated KeyMe kiosks. An overarching disadvantage is that KeyMe keys do not always deliver optimal quality and may not fit properly into the lock. Here are four more cons to choosing a service like KeyMe.
1. The Security Risk
Services like KeyMe pose several security risks. Anyone who has brief access to your keys — like your friends, car valets, mechanics, thieves and more — can take them to a kiosk and copy them. If you've saved keys to the KeyMe app and sent codes to friends, they could easily share that code. And in an increasingly digital world, there's always a possibility that the cloud-based KeyMe system could be hacked and exploited for its key codes.
A Wired article from several years ago chronicles how the writer successfully used KeyMe to break into his neighbor's home while testing the program's security. The writer's neighbor lived on the second floor of a walk-up and decided to throw the writer his keys instead of walking down to open the door for him. In the 30 seconds it took the writer to ascend the stairs to the apartment, he scanned his neighbor's key with the KeyMe app. This feature allowed him to create a copy of the key at a KeyMe kiosk and return an hour later to let himself back in.
It's important to note that it appears KeyMe has recently removed the app feature that allows people to scan in keys with a photograph. Though this move was, perhaps, taken to make people feel safer using the service, there is still a security risk.
Anyone who has access to your keys for just 15 minutes could duplicate them at a kiosk. If someone knows how to get a car key copied with KeyMe, they could easily order a copy from a kiosk and have access to your car within a few days. And as we mentioned, there's still the risk that cyber-criminals can access the keys you've saved to the app and make copies.
2. The Verification Process
To circumvent the troubling security risks we covered, KeyMe has a verification process at each kiosk. To make a key that has been saved to the KeyMe app, you'll need a verified email address, a password and a fingerprint scan if you have one saved. While these requirements are all protective measures, they can only do so much. The KeyMe Terms and Conditions explicitly state the following:
Users are responsible for the activity that occurs on their accounts.
Users are responsible for keeping their passwords secure.
If your password isn't very strong or someone finds out what it is, KeyMe will hold you responsible for any issues that unfold.
Another security measure KeyMe implements is that it doesn't take cash and requires a verified credit card. In theory, this setup should ensure that they have a name connected to each key order, which they could trace in the case of wrongdoing. However, a recent Forbes article put a wrench in this theory.
To test the kiosk's security, the author bought an Amex debit card with cash. This card could not be traced back to his name, and the kiosk allowed him to use it to purchase a key. The author's conclusion? KeyMe does not verify credit cards to see if they are debit or credit and have clear account ownership. If someone wants to get a replacement car key for your vehicle in order to steal it, it's possible that they could do so anonymously with the KeyMe service.
3. The Potential for Inconvenience During Lockouts
As we've discussed, one of the biggest marketing points for KeyMe is that you'll never have to worry about lockouts again. While this could be true, there are many caveats:
Preparation: In order to print a new key on-demand, you need to either have that key with you or have a copy of it saved within the app. You obviously wouldn't have the key with you during a lockout, which means your only option is to have the key saved. Unless you've made a copy of that key using KeyMe before, it's unlikely that you'd have the key preemptively stored in your phone.
Proximity: If you do have the key saved and ready to print when a lockout strikes, you'll still have to get to a KeyMe kiosk. Ideally, one would be nearby and convenient. There's still a chance, however, that you'd need to drive out of your way to get to the kiosk and then return home with your key. By the time you've made this trek, you may be wishing you'd saved time by contacting a locksmith come to your location and complete the work onsite.
Key type: Only standard keys can be reproduced on the spot at a KeyMe kiosk. If you're locked out of your car or use a high-security key, the kiosk may require you to have the key shipped to your home within a few days.
For most people, there's no guarantee that the kiosks will provide an easier or more efficient solution than calling an experienced locksmith.
4. Not All Keys Can Be Copied
Each key manufacturer uses a unique key shape and design as its template. When you get a key copied, a locksmith or automatic kiosk has to start with a key blank from the manufacturer and match your key's cuts. While a locksmith may need to order a blank to match less common key manufacturers, KeyMe simply won't copy those brands.
KeyMe kiosks have a limited amount of space to hold key blanks, which confines them to the most popular options. In addition, high-security key manufacturers set distribution limits on their blanks, which means that KeyMe can duplicate only high-security key types with expired patents.
If you have a common key brand like Schlage or Kwikset, you may be covered with a KeyMe kiosk. But if your key deviates from popular manufacturers, there's no guarantee that you'll be able to reproduce a copy with KeyMe.
Why Choose a Professional Locksmith Over KeyMe?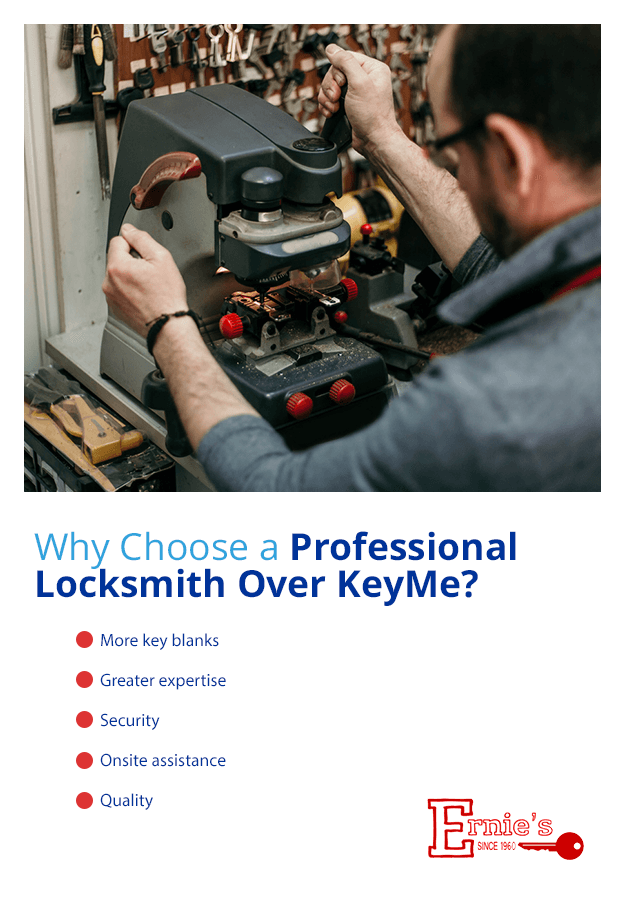 KeyMe may be helpful in some situations, but a professional locksmith has several advantages, including:
More key blanks: A locksmith doesn't have space constraints like an automated key duplicator. You're more likely to be able to get key replacements from a wide assortment of manufacturers when you work with a pro.
Greater expertise: At a KeyMe kiosk, you have to pick one of several predetermined options. Locksmiths have a greater knowledge of keys and can give you recommendations based on your unique situation.
Security: When you work with a locksmith, you're not storing valuable key data in an app with a flimsy password. You can trust that your security and privacy are being protected.
Onsite assistance: In many emergency lockout scenarios, the most beneficial option is to have a locksmith come to you. A professional locksmith can provide prompt service and keep your day moving.
Quality: The craftsmanship and quality you'll get with a locksmith exceeds that of a KeyMe kiosk. Though KeyMe advertises itself as 10 times more accurate than traditional locksmiths, there are many review articles that state otherwise. Customers pay for cheap keys that don't fit in their locks and ultimately waste their time. You can trust that a quality locksmith will get your key right and deliver the results you expect.
If the idea of using an automated key duplication service does not appeal to you, contact the professionals at Ernie's Lock Co. instead. We've been providing reliable key replacement services in Maryland since 1960, and we can also alleviate the security concerns of using KeyMe and similar services. Ernie's provides high-quality service, whether you're in a pinch or you just need a duplicate key. And unlike other locksmiths, we won't overcharge you. For more information about what Ernie's can do for you, call (301)-277-1126 or contact us online today!