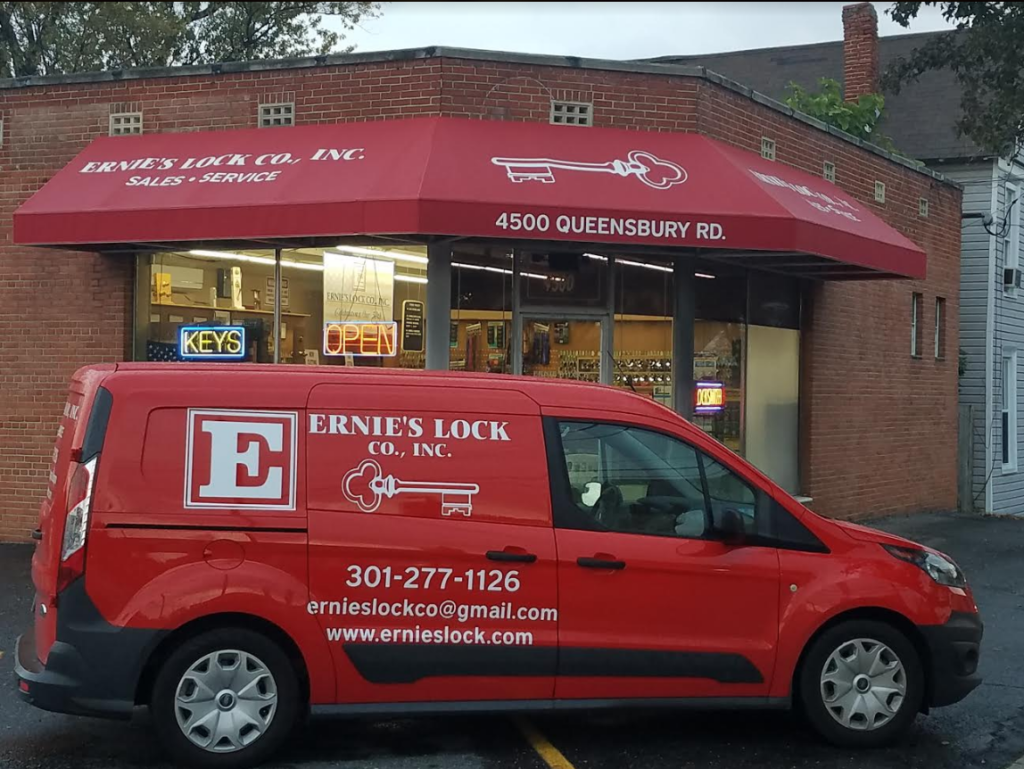 Commercial & Residential Local Locksmith
Ernie's Lock Company, Inc was established in the heart of Riverdale Park, Maryland in 1960 by Ernest and Elsa Boswell, and has since become one of the oldest businesses in the area. Throughout the past 55+ years, Ernie's Lock Company, Inc. has established itself as the leading Commercial & Residential locksmith in Prince George County Maryland, and the surrounding areas;
Cheverly, Maryland
Beltsville, Maryland
Takoma Park, Maryland
Greenbelt, Maryland
Rockville, Maryland
Greater Landover, Maryland
Upper Marlboro, Maryland
Although ownership has changed over the years, Ernie's Lock Company, Inc. has always maintained the highest quality locksmith services throughout Maryland and the Northeast Washington, D.C. area. Ernie's has also become a staple in the Riverdale Park community for offering commercial and residential security products from top brands such as Schlage, Medeco, Corbin Russwin and more! Our commitment to providing durable, high-security products in addition to our first-rate services, is just one of the many reasons our customers consider us the best locksmith in Maryland!
When looking for commercial, or residential locksmith, you can trust in the licensed locksmiths at Ernie's Lock Company, Inc. to provide exceptional service that will meet your unique and ever-changing needs! The experienced lock & key technicians at Ernie's specialize in a variety of locksmith services from commercial and residential, to automotive and emergency lockouts. We're confident in our ability to handle jobs of any size and difficulty, and we guarantee our superior customer service team will bring you peace-of-mind throughout your services with Ernie's Lock Company. Inc.
Not only is Ernie's Lock Company, Inc. the oldest commercial & residential locksmith in Maryland and Northeast Washington, D.C. with a brick and mortar location, but we also pride ourselves in transparency when it comes to the pricing of our products and services. We will always provide FREE quotes, and we always try our best to give accurate estimates based on the information provided to us before we begin servicing your commercial, residential, automotive or lockout needs.
When contacting Ernies Lock Company, Inc. for an estimate or service, we encourage you to provide a detailed description of the services you're looking to have, and provide our team with any pictures that would better enable us to provide you with exact pricing.
Whether you're a business owner looking to install master key systems, electrical access or restricted keyways to secure your building, or you're a homeowner that's interested in having locks rekeyed or installed on your doors and windows; Make Ernie's Lock Company, Inc. your top choice for unmatched and efficient commercial & residential locksmith services in Maryland!