How to Choose a Deadbolt Lock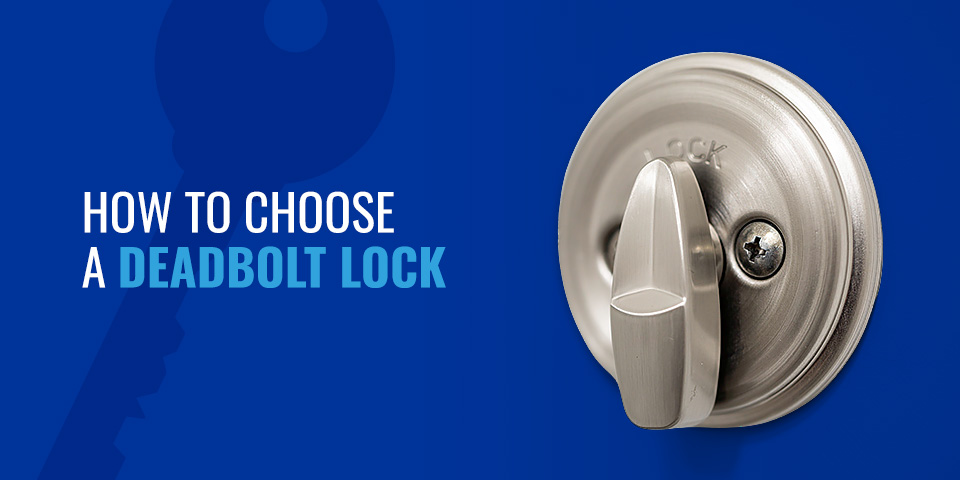 Feeling safe and secure at home or at your business is of the utmost importance. You want your home or commercial property to remain safe from intruders or other unwelcome guests, and one way to gain extra security is with a deadbolt lock.
Deadbolt locks are additional locks on doors aside from the lock on the knob. These locks are very heavy-duty to give you increased peace of mind when relaxing at home or conducting important business at work.
If your home or business does not currently have a deadbolt lock, you'll want to look into installing one on each exterior exit. There are many different types, and selecting a deadbolt lock may be more complicated than you think. This guide will explain the different types and sizes and how to choose a deadbolt lock for your home or business.
Different Types of Deadbolts
First, let's consider the different types of deadbolts available. The two most common types of deadbolt locks are double-cylinder and single-cylinder deadbolt locks:
Double-cylinder locks: These locks require a key on either side of the deadbolt to unlock the door. They offer higher security by preventing intruders from getting inside a door even after breaking a window. However, double-cylinder deadbolts come with less convenience and may hinder you during an emergency.
Single-cylinder locks: You can easily lock doors from the inside with single-cylinder locks. You'll need a key to open the door from the outside, but you can lock and unlock the door from the inside using a thumb turn. If you have a window on the door you wish to insert a single-cylinder lock on, make sure the lock is out of reach should the window be broken.
You can also try out more modern deadbolt locks, including those you can unlock via keypad combination. Other types of deadbolt locks you can choose include lockable thumb turn style locks, rim deadbolts, vertical deadbolts, mortise locks or smart locks that connect to your home Wi-Fi or smart home technology.
Different Grades of Deadbolt Locks
In addition to types of deadbolts, there are also varying grades of deadbolt locks that describe their strength. The American National Standards Institute (ANSI) created a set of standards describing the security associated with deadbolt locks. Take a look below:
Grade 1: These locks provide the highest level of security. They're often used in settings like banks or office buildings where high security is a priority. They're the strongest lock money can buy.
Grade 2: Grade 2 locks offer slightly less security than a Grade 1 lock, but they still offer more protection than a standard door lock. These locks work well in residential settings and must be operational after 800,000 rounds of testing.
Grade 3: These locks are the least secure out of the three options. They're often used in conjunction with another lock on the door since they do not need to withstand the same amount of force as Grade 1 and 2 locks.
These grades are the standards for deadbolt locks. However, if you think you need even more security for your door, you might want to consider a high-security lock.
High-Security Locks
High-security locks must pass an assessment by an independent organization called Underwriters Laboratories (UL) to be considered high-security. One of the most demanding tests is called the UL 437, which tests a lock's ability to withstand drilling, picking and more.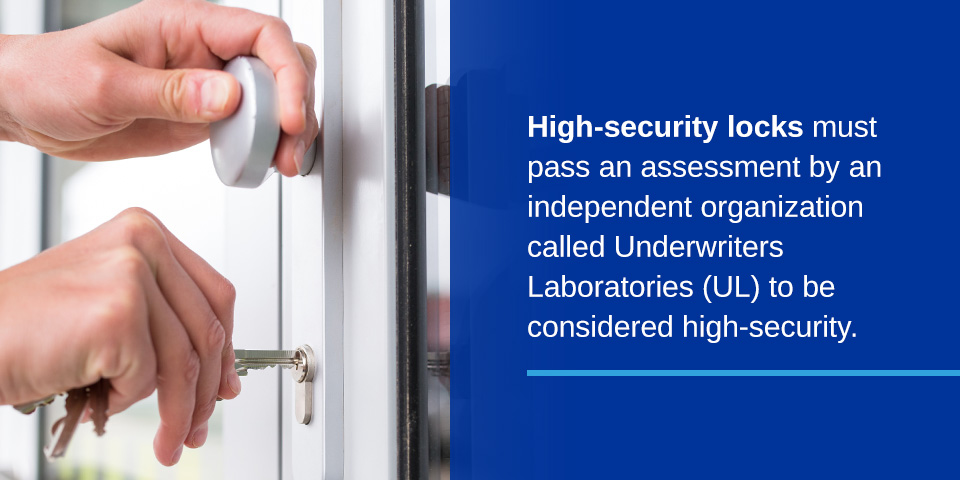 How to Select the Best Deadbolts for Your Home
Consider these factors when choosing a new deadbolt for your home:
Preferred grade: In most instances, a Grade 2 lock will work best in a residential setting. However, in an age where more people prioritize higher security, you may opt for a Grade 1 lock.
How to unlock: Would you rather unlock your door with a key or with a code? Consider convenience and who else needs access to your home.
Single cylinder vs. double cylinder: Single-cylinder locks are the more conventional choice for a home since it allows homeowners to exit easily with just the flip of the thumb turn. If you feel worried because the door in question has a window close to the lock, you might feel peace of mind knowing glass, in general, is a lot stronger than it used to be!
You also want to make sure you find the right size deadbolt for your home. Deadbolt locks fit into a backset — the distance between the edge of your door and the middle of the bore hole.
The size of the deadbolt lock you need will also depend on the size and thickness of your door. Some measurements you'll need to find the right size for your door include the cross bore, latch bore, door thickness, deadbolt faceplate width and height and backset distance.
How to Select a Deadbolt for Your Business or Commercial Property
There are several considerations to make when choosing the best deadbolts for your business or commercial property. To keep your company, your employees and your items inside the safest, choose the type of deadbolt carefully. Consider a single-cylinder lock on doors without windows or doors with tough windows and a double-cylinder lock for doors with weak or old windows.
The grade you choose will likely depend on your business — if your company needs extra privacy, you'll probably want to opt for a Grade 1 lock over Grade 2 or 3. You probably will not want to put a Grade 3 lock on any business doors unless it's an addition to an existing lock.
As with residential properties, the size of the deadbolt lock you need will depend on the size and thickness of your door. If you have questions about installing a deadbolt lock on your company door, contact a locksmith to ensure the job gets done right!
How Ernie's Lock Company Can Help You Choose a New Deadbolt Lock
If you need to install multiple locks or want to ensure everything gets done properly, hiring a locksmith is the way to go. The one-time cost of working with a locksmith is comparatively a small price to pay when considering the safety of your home or business.
If you want to install a new deadbolt lock in Maryland or D.C., let the experts at Ernie's Lock Company help with lock installation and other related services. When you choose Ernie's, you'll know exactly how much you're paying before the job gets done. Contact us today for a transparent, up-front quote on the services your home or business needs!