How to Protect Your Home While Traveling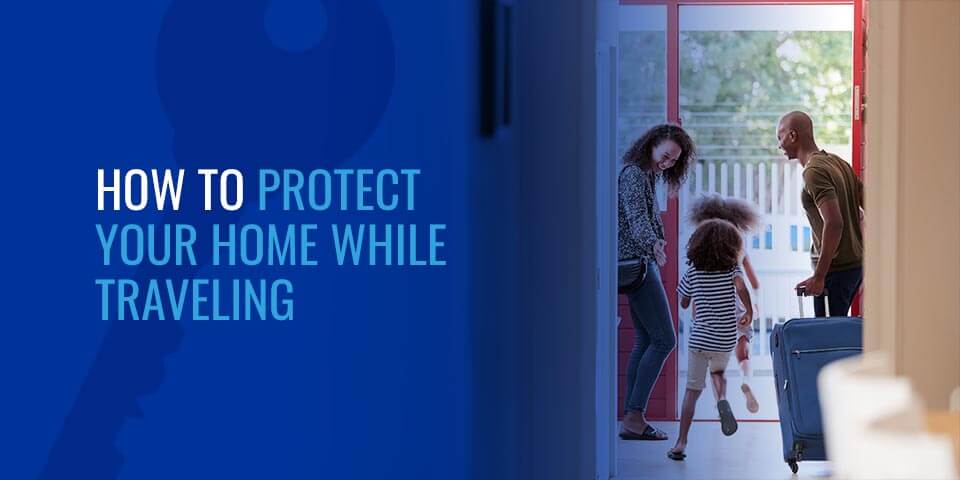 All the anticipation of an upcoming vacation can be distracting, especially after you've packed everything you need and loaded your suitcases into the car. Amid this excitement, homeowners sometimes forget to take one last look around their house to ensure their property doesn't appear inviting to intruders.
Preventing break-ins and other potential problems takes minimal planning and will provide extra peace of mind while you're away.
6 Ways to Protect Your Home While on Vacation
Before you depart, it's crucial to set aside sufficient time to prepare your house for your vacation. Making a checklist of everything you need to accomplish reduces the chance you'll forget the most critical tasks.
Check out six of the most effective measures you can take before you leave.
1. Securing Your Doors and Windows
One of the most effective ways to protect your home while you're away is with a comprehensive security system and alerting your security company to your departure. If you have an alarm system for security, don't forget to activate it before you leave.
If you don't have access to an electronic security system, there are still plenty of ways to protect your property, like physically checking the locks on all your doors and windows. If an intruder approaches your home and discovers that all the entry points are locked, they're more likely to be deterred.
2. Asking Your Neighbors to Watch Your Property
Enlisting your neighbors to keep an eye out while you're away is also effective for securing your property while you're on vacation. If you give them a spare key, they can collect your mail and access your home in case of an emergency.
Another option is trusting a close friend or family member to check on your home periodically. Finding someone to stay inside your house while you're on vacation is even better.
Additionally, it's critical to ensure that all your house keys are in safe hands. If you hide a key outdoors for emergencies, consider keeping it in a more secure spot until you return, as burglars are familiar with most of the typical hiding places.
3. Using Indoor and Outdoor Lighting
If you have a neighbor checking on your house, you can ask them to turn your indoor and outdoor lights on and off while you're away. Lights are a sign that someone's around and can sometimes provide an effective deterrent. It's not necessary to go overboard with the number of lights you turn on — just a few will create the appearance that someone is home.
Timers and smart lights are another way to control indoor and outdoor lighting when vacationing. Smart bulbs and outlets allow you to control appliances from the convenience of your smartphone even when you're miles away from your home.
At the same time, you should unplug your non-essential electronics like televisions, humidifiers, air conditioners, computers, stereos and other accessorie. In addition to saving you money on utility bills, they also help prevent fires while you're away.
4. Leaving a Vehicle in Your Driveway
If you have the luxury of parking a spare car in your driveway, it could help keep your home safe while you're traveling. A parked vehicle gives a prospective intruder the idea that someone might be inside your home and deter them enough that they won't trespass on your property. If you choose this route, you'll want to remove all valuables from your car as well.
5. Watching What You Post on Social Media
Although most vacationers can't wait to share their travel experiences with their friends on social media, it's often wiser to wait until you return home to post all your pictures and memories. Sharing your location on the internet while you're far away can be an open invitation for someone to rob your home, especially if the information gets into the wrong hands. Even if you think your social media posts are secure, thieves often have ways to access information that most people don't.
In addition, you should also avoid posting countdown statuses that indicate departure times. You should still alert someone you trust to your whereabouts in case of an emergency — just not the entire social media world.
6. Upgrading Your Locks
If you're still having second thoughts about security, another measure you can take is upgrading your door locks, particularly if you have an older home with antiquated locking systems. Choosing a reliable, trustworthy and insured locksmith like Ernie's Lock Company gives you the peace of mind of knowing your home will be extra secure while you're away. Ernie's offers all the residential locksmith services you need, from replacing your old locks with a more secure system to rekeying your existing locks.
Customers across Maryland and Washington, D.C. trust Ernie's for the area's most reliable and superior locksmith services. We back all our new installations and repairs with a 90-day workmanship warranty. Our professional technicians arrive on time and work efficiently to minimize disruption to your home or commercial operation.
At Ernie's, we strive to ensure all lock and key systems we install provide exceptional quality, durability and reliability. We carry products by Schlage, Corbin Russwin, Medeco and other leading manufacturers, all backed by a manufacturer's warranty and Ernie's workmanship guarantee. Our team will work with you to determine the perfect system for your property and budget.
Get in Touch With Ernie's Today
If you're preparing for an upcoming vacation and are considering replacing the existing locks on your home, Ernie's can help. We offer locksmith service for homes, apartments and condos throughout Maryland, including Riverdale, Greenbelt, College Park, Ellicott City and the surrounding region. We also provide commercial lock and key services for businesses across the region.
Contact us online today or call 301-277-1126 to learn more!