How to Get a Broken Key out of a Door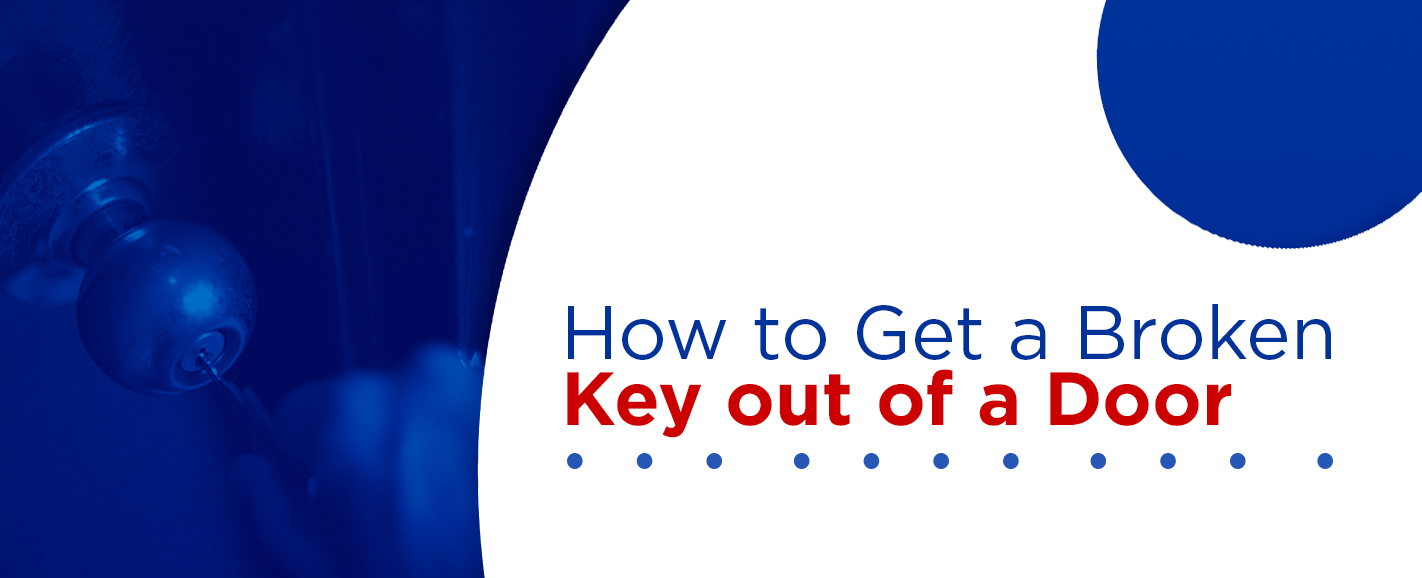 It's Monday morning. You've made it through rush-hour traffic and are ready to get a jump on the week.
You step up to your company door, put the key in the lock and turn.
As you go to pull the key from the lock, you realize it won't move.
You twist and pull again.
Still nothing.
At this point, most people begin to panic. They start pulling at the key and shaking the lock. They call someone or search for the number of a locksmith who's answering calls early in the morning.
There's an easier way.
If this has happened to you, you might be able to resolve the problem yourself and get your work back on track.
Tips for Removing a Key Stuck in a Lock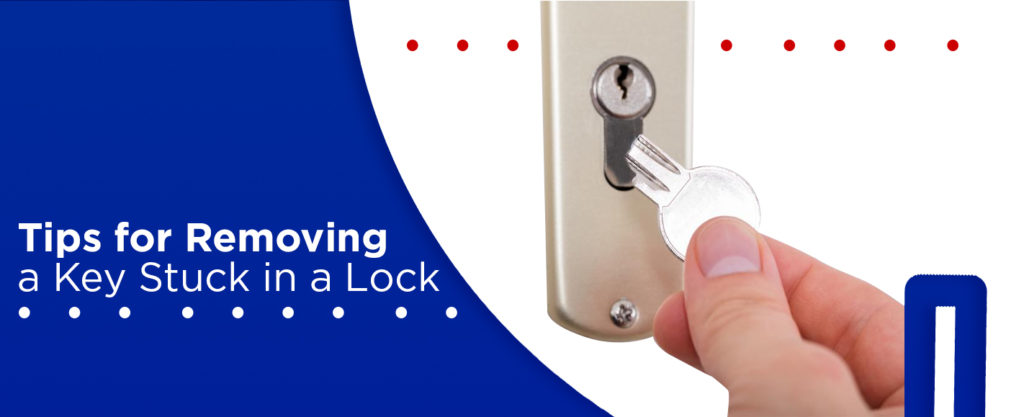 The best thing you can do when your key gets stuck in a lock is to stay calm and assess the situation. After all, whether you fix it yourself or end up calling a professional, you need to understand what's happened to your key before you can move forward. To determine the best course of action, ask yourself these questions:
Is my key broken or is it in one piece?
If my key is broken, did it break in such a way that all of the cuts are still in the lock or are some of them on the piece in my hand?
Do I have access to tools and other items I may need to remove the key?
Is there a co-worker or trusted neighbor nearby who can help me?
Will my business be secure if I need to leave the key in place while I go to the store to get the supplies I need?
This last one is particularly important, because, depending on how the key is stuck in the lock — whether it's turned far enough that the door can be unlocked — it may not be safe to leave your business unattended. If all of the key's cuts are inside of the lock, and someone could turn it with a screwdriver to open the door, then ask someone to stand guard while you run to the store.
When Your Key Is Stuck — But in One Piece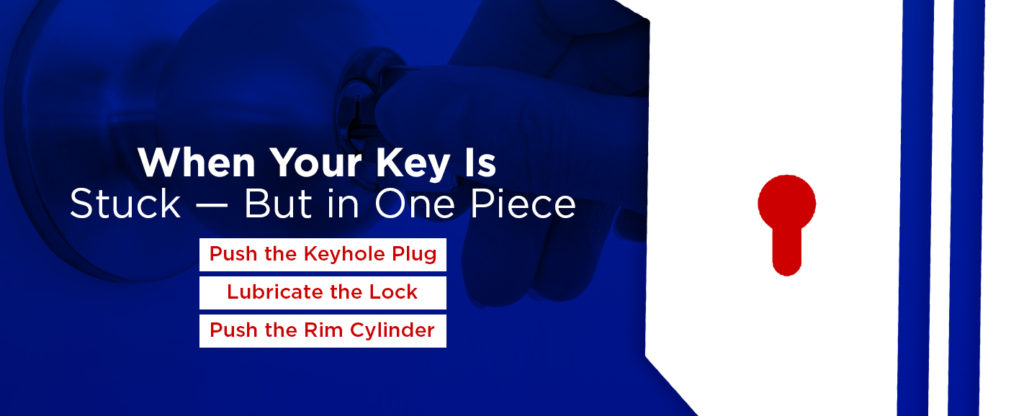 Once you've answered these questions, you can then turn your attention to the task at hand. If your key is intact, then the good news is that this scenario is relatively common. It's also easily resolved. When a whole key gets stuck in the lock, it typically happens for one of these reasons:
Your key is new and has small, rough "burrs" that become caught in the locking mechanism.
Your key is old and warped, which allowed it to get caught inside of the lock.
Your lock itself is old or has pieces that have become loose over time.
Regardless of the culprit, the first thing you should do is stop and take a deep breath. If you start to panic and start to shake the key, you risk breaking it off in the lock. You could also do more damage to the lock itself. It will be easier to remove the key if it's in one piece.
Once you're calm, how do you get a broken key out of the door? You'll need to try a few steps methodically.
1. Push the Keyhole Plug
First, try to push the keyhole plug, which is the small metal circle that surrounds the keyhole and, in this case, your key itself. If the plug is loose, it can sometimes cause the key to become stuck in the lock. To push the plug — and hopefully free your key — you'll need to:
Make sure the key is pushed into the lock as far as it will go.
Turn the key back to the original spot it was in when you inserted it into the lock. This helps the pin tumblers to align correctly, which is essential to opening the lock and removing your key.
While still holding the key with one hand, use your other hand to push gently on the plug just next to the key itself.
As you push, gently turn the key and pull it out.
Many times, this is all you'll need to remove a key that's stuck.
2. Lubricate the Lock
When you have a new key, it sometimes still has little burrs that can get caught on the lock pins. When this happens, some extra lubrication can help free your key and prevent it from getting stuck again. A spray lubricant or a graphite powder is all you need. Many people keep this on hand, but if you don't have a can nearby, it's easily found at any hardware or big box store.
To apply lubricant or graphite powder to your lock:
If using a spray lubricant, attach the plastic tubing that came with the can to achieve a more precise spray.
Spray or squeeze a generous amount of lubricant or powder into the lock along both sides of the key.
Wait one minute to allow the lubricant or powder to take hold, then gently turn the key as you normally would and remove it.
Once the key is free from the lock, make sure to spray more lubricant or squeeze more powder into the keyhole to prevent future incidents. If you suspect that your new key was the culprit, take the key to a hardware store or key maker to be buffed and have those burrs removed so that they won't cause problems down the road.
3. Push the Rim Cylinder
If a lubricant doesn't help, you may have a loose rim cylinder — the round metal part surrounding the keyhole and plug — which is supposed to stay still when the key turns. When the rim cylinder is loose, it can sometimes turn with the key, preventing the lock from turning. You can easily correct this by stabilizing the rim.
Use one hand to push the rim cylinder in toward the door.
Use your other hand to turn your key and gently pull it from the lock.
If you do identify a loose rim cylinder as the culprit, you can attempt to repair it later or, if the lock is older, it may simply be time to replace the entire lock.
Other Hacks
If your key is stuck, and not broken, but you don't have lubricant handy, you can also try one of these hacks to get your key free:
Wrap a couple of ice cubes in a plastic baggie and hold them up to the key, as close to the lock hole as you can. In warm weather, this can cause the metal of the key to contract just enough that you can pull it gently from the lock. In colder weather, this may not work as well, so use your best judgment in determining whether this is worth a try.
When it gets cold, moisture or dirt can become frozen inside of your lock, causing your key to become stuck. If you suspect this is the reason your key won't come out of the lock, your best bet is to purchase a lock de-icer and apply it to your lock.
When Your Key Is Stuck And Broken
Unfortunately, sometimes a key gets stuck in a lock because it breaks inside. Or, sometimes a stuck key can become broken in the process of trying to remove it from a lock. When this happens, people can often assume the worst and immediately call a locksmith. While it certainly can become necessary to call a professional, this does not need to be the first thing you do. Before you call and say, "Help! I've just broken my key inside the lock," there are many things you can do to attempt to remove your broken key on your own.
Try these steps first:
Spray or squeeze a small amount of lubricant or graphite powder into the lock hole.
If your key broke in such a way that some of the key's cuts — the ridges that align with the locking mechanism — are on the part that is not inside of the lock, then the key was not able to engage with the lock. Using a pair of needlenose pliers, grab the visible end of the key in the lock and gently pull it out.
If the key broke in a way that all of the cuts are inside of the lock, then the lock may have been partially engaged before the key broke. Insert a small screwdriver into the lock and turn it back to its original position. Then use pliers to pull out the key. If this is the case, never leave the key and lock unattended. If you can insert a screwdriver into the lock, so can someone intent on breaking into your business. If you need to step away from the door to run to the store for lubricant or tools, ask a co-worker or trusted neighbor to keep an eye on your business.
If the pliers don't do the trick, pop over to your local hardware store and purchase a broken key extractor kit. These kits are relatively inexpensive, and they come with a variety of tools to fit the size of your particular lock. Once you select the tool that's the right size for your lock, slide it into the lock and pull out the broken part of the key.
If the screwdriver and pliers don't work, there is one other option before turning to a professional. Insert the blade of a scroll saw or jigsaw into the keyhole. The blade should be facing down. As you push it in, you should feel the blade's teeth grab onto one of the cuts on the key. When this happens, pull the blade of the saw out of the keyhole. The broken key should come with it.
Tips for Preventing a Key From Getting Stuck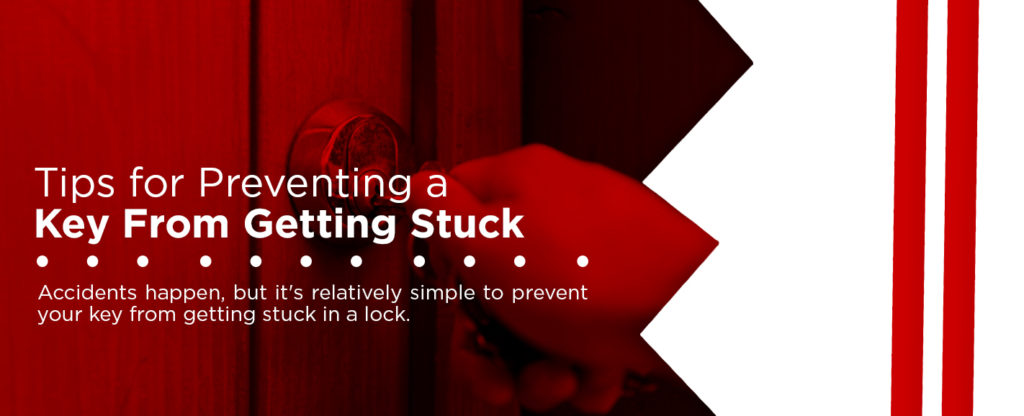 Accidents happen, but it's relatively simple to prevent your key from breaking and/or getting stuck in a lock. All it takes is a little bit of foresight to follow these steps:
Have a new key made when you notice any wear or bending in your old one. Keeping your key in good condition will prevent breaks.
Pay attention to the condition of your locks. If you notice any loose parts, tighten them.
Spray your locks with lubricant or de-icer every few months to keep the inside of the locks in working order and combat build up of moisture and dirt.
If you do have a key that gets stuck in your lock, use that incident as a prompt to perform some routine maintenance on your locks. Take stock of all the exterior locks around your business — not just the one that ate your key — to make sure that they are in good working order. Finally, make sure you have one or more spare keys you can use if your primary key becomes warped or broken.
When to Contact a Professional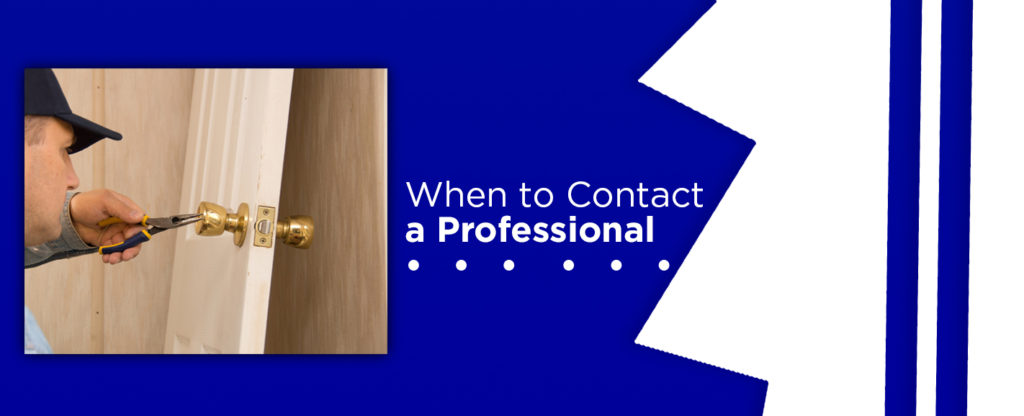 When your key gets stuck in a lock, there are many things you can try to attempt to remove it yourself. Hopefully, the steps we've explained above are all you need to keep your keys and locks in good working order. But, if you don't have access to certain tools or you don't have any luck with these steps, then it may be time to call a professional. A professional locksmith can remove the broken key and, if needed, repair or replace your locks, keeping you and your business safe and sound.
If you do need to call a professional locksmith, it's critical to call one you can trust. With more than 55 years of experience, Ernie's Lock Company Inc. is proud to offer high-quality, affordable locksmith services to Prince George's County, Riverdale Park, and surrounding areas, including the Washington, D.C., and Baltimore Metro areas. Our experienced technicians are skilled in commercial, residential and automotive lock systems of all kinds, and strive to provide our customers with fast service and peace of mind.
What makes Ernie's unique is that we have a brick-and-mortar location, giving our clients a place to walk in to obtain accurate — and free — estimates if they prefer face-to-face interaction over a phone call. Whether you're a business owner interested in installing electrical access or master key systems or a homeowner looking to install new locks on your windows and doors, Ernie's is the one for the job.