The Best Keyless Locks for Schools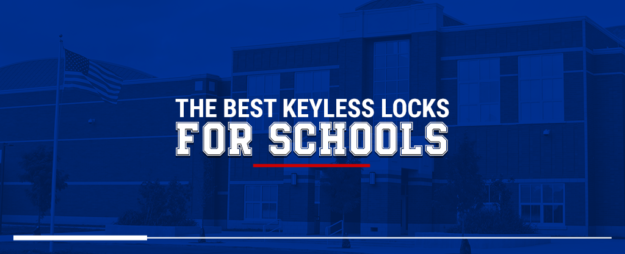 Students have the right to a safe education. As technology advances, schools have access to modern-day safety methods, keeping students protected and empowered to learn.
Thanks to these innovations, schools can do away with traditional keyed locks and replace them with high-tech keyless alternatives — keeping threats outside the school and classroom and allowing students and faculty to take charge of their safety.
Here, our certified locksmith experts at Ernie's will outline the best keyless locks on the market, customized to complement your school's security measures and unique needs.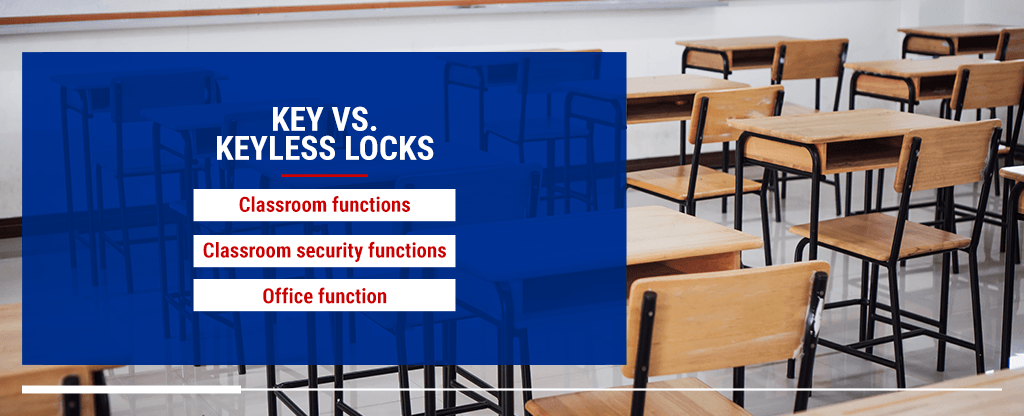 Key vs. Keyless Locks
Key locks are standard in both commercial and residential settings. Your school likely already has commonly used commercial mechanical locks in locations such as these.
Classroom functions: These functions, or lock types, are lockable from outside the classroom only. Classroom functions, compared to other mechanical locks, have the unique advantage that you can't accidentally lock yourself out. But, if an emergency is in progress, keyholders put themselves at risk, as they have to leave the classroom to lock the door.
Classroom security functions: Like classroom functions, classroom security functions allow keyholders to lock the door from the inside. These functions cause classroom disruptions, as teachers have to continually let students in during lectures.
Office function: The office function's defining characteristic is their inside button or lever, where anyone — even people without a key — can control the lock by engaging or disengaging the lever. Some may prefer office functions in low-risk scenarios, but disorderly students can use this feature to their advantage.
Overall, key lock types have their advantages, but they come with disadvantages like:
Accidentally locking yourself out, in most cases.
Lack of access control.
The nuisance of carrying keys around, and the added risk of losing them.
Keyless locks, as you might have guessed, eliminate the need for keys and fix these disadvantages. These modern lock types use technological systems that allow security to electronically tailor access to specific destinations using an electronic key.
For example, teachers can access role-appropriate rooms, like their classroom, workroom and teachers' lounge. Meanwhile, maintenance staff can have access to janitorial closets and early or late access to classrooms.
How Do Keyless Locks Work?
Although keyless locks might seem futuristic, you've likely used one before. One common example is a car door, which you unlock and lock with a key fob.
Keyless locks — also referred to as electric locks — work under the same principle as mechanical locks. Both use a latch, which secures the space between the door and the doorframe. This latch activates via a key, either locking or unlocking the spring bolt or deadbolt.
While mechanical locks require traditional keys, keyless locks rely on electronic keys, like:
Key fobs.
A card.
Biometrics, such as a fingerprint.
Smart cards via smartphone.
In a school setting, we recommend sticking with either a key fob or personalized cards. When you click or scan your key, it activates the lock's internal motor, which an electrical impulse controls. The motor won't unlock without the right key unless you choose to have a master key, which can mechanically unlock the electrical motor.
The overarching function of keyless locks is to keep faculty and students safe in an emergency following safety organization-established codes.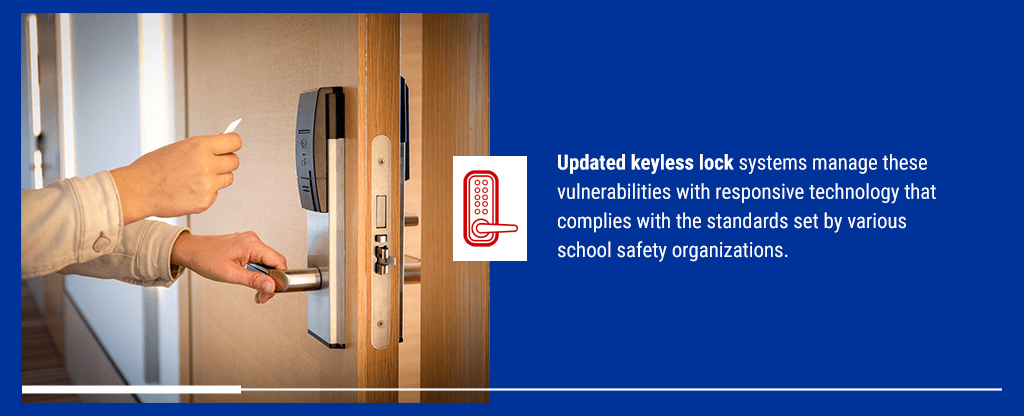 Why Is It Necessary to Keep School Locks Up to Date?
Schools are vast. They contain vulnerable exterior access points and internal mazes, which elicit high-risk scenarios. Updated keyless lock systems manage these vulnerabilities with responsive technology that complies with the standards set by various school safety organizations.
The Federal Commission on School Safety (FCSS) sets the general standard on overall school safety measures. The FCSS recommends "hardening the classroom" — empowering teachers to provide students with concealment and protection against harm. Additionally, the FCSS states that all classrooms should have locks that are lockable from the inside via a key, code or other credentials.
The National Association of State Fire Marshals supports this claim, stating that commercial locks should be unlockable from inside the classroom using a single motion to allow for safe exit during an emergency, such as a fire evacuation. What's more, identified faculty should always be able to unlock the door from the outside, in the hallway.
The American National Standards Institute (ANSI) goes deeper into the locks themselves, setting industry standards on the integrity of keyed and keyless locks. Some locks, like most keyless locks, go beyond ANSI's standards, increasing the safety of everyone inside the school.
Failure to meet these standards puts students and faculty at risk. These standards change as technology advances and threats evolve, highlighting the importance of maintaining effective school door locks.
How Do You Know When It's Time to Replace Your School's Locks?
If you can't remember the last time you replaced your school's locks, or there's no recent documentation on previous administrations changing them, you probably need to update the lock system.
Consider these other signs your school needs new locks.
You're in the process of upgrading your school: If you're already renovating or adding to your school, you might as well update your locks, too. Outdated schools likely have equally antiquated lock systems. Avoid overlooking this crucial safety upgrade.
You've experienced an emergency or break-in: Unfortunately, schools aren't invincible to break-ins. Recent break-ins or emergencies are telltale signs that your locks need replacing — and that they need to be sturdier and more reliable.
Your current lock system is vulnerable: It's easy for mechanical keys to get lost, misplaced or stolen. If the wrong person finds the key, they gain access to secured areas within your school.
Every school's lock system is different depending on their campus size, security protocols, the daily flow of operations and allotted budget. Luckily, lock systems are customizable to meet each school's needs, but you may still be wondering — what is the best lock system for your school?
How to Choose the Right Classroom Locks
For the highest-level protection, we recommend upgrading your current lock system to electric technology or investing in a completely new keyless lock system. Keep in mind that the keyless locks you use on classroom doors will be different than those you use at exits and entrances.
Customize your school-wide lock system by answering the following questions:
How often will each lock see use?
Who will be using the lock?
Is the lock easily operable?
Will you need to change locks or codes frequently?
Do you want the doors to lock automatically?
Do the locks correspond with previously outlined safety protocols, other safety codes and Americans with Disability Acts' standards?
Do the lock systems correlate with existing security measures?
Can the locks quickly respond in the event of an emergency?
What are your budget constraints?
With your team, compile your answers to these questions and create a comprehensive list of your lock systems' must-haves.
Does Your School Need to Renovate Its Entire Lock System?
No, you don't have to replace your entire lock system all at once, as long as your current locks meet existing standards. But, we recommend doing so if your budget allows for it.
If you choose to progressively update your school's lock system, start with its most vulnerable areas. Such areas include any entries or exits and rooms like computer labs that house expensive equipment. Again, these areas will vary, based on your campus.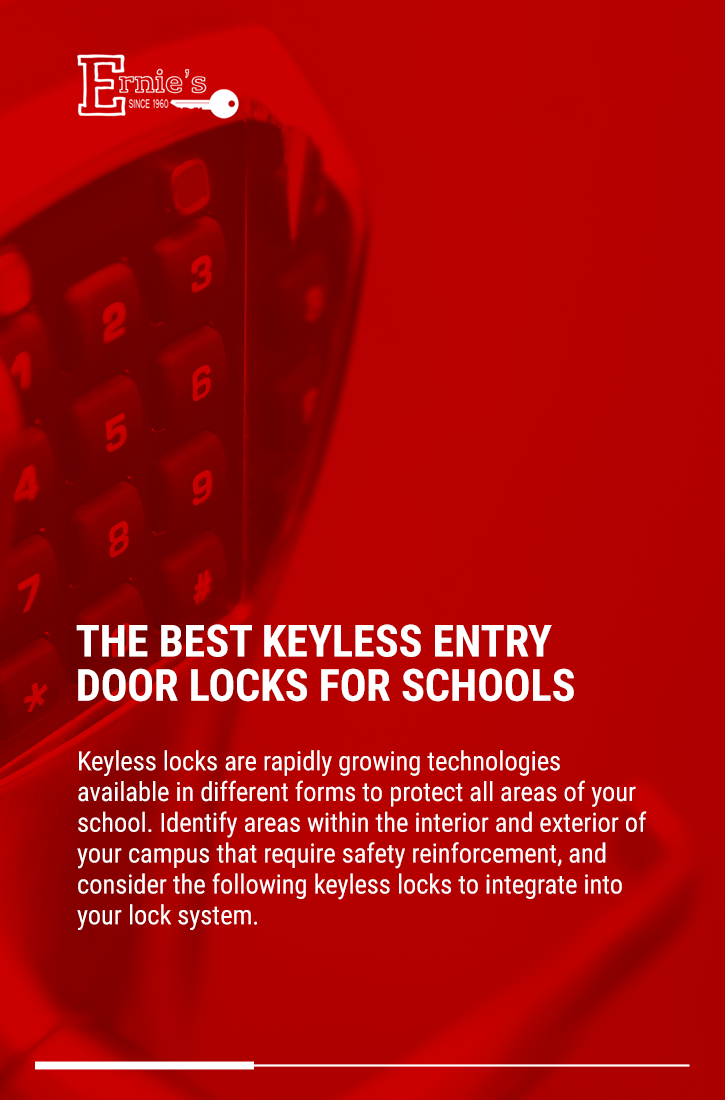 The Best Keyless Entry Door Locks for Schools
Keyless locks are rapidly growing technologies available in different forms to protect all areas of your school. Identify areas within the interior and exterior of your campus that require safety reinforcement, and consider the following keyless locks to integrate into your lock system.
Electrical Access Control Systems
Above all else, we strongly recommend installing an electronic access system throughout your school. Electronic access control systems are very advanced, giving you access to specialized safety protocols like these.
Key card or fob security: Instead of traditional keys — which can get lost, copied or abused — schools administer key cards or fobs, depending on their preference. If a key card or fob gets lost, or a faculty member leaves, you can quickly remove their access from the system.
Customizable room access: All key cards or fobs are customizable. Each faculty member has their respective key card or fob, which security personnel can digitally manage, allowing access to appropriate rooms and restricting access to others.
Data collection: Security personnel can also track where each faculty member travels. Schools can use this data for business intelligence, as well as employee evaluation.
Visitor management: Schools can supply visitors or temporary faculty, like substitute teachers, with one-time access codes for traffic filtration — keeping unwanted visitors out and all students and faculty safe inside the building.
Fast response to emergencies: If a breach occurs, security gets a real-time notification that an emergency may be in progress. Security can quickly perform an emergency lockdown by pushing a panic button.
One downside to electrical access control systems is their cost. Key lock systems are comparatively inexpensive, but they're also less reliable. If you're looking for maximum emergency protection, we recommend making the long-term investment now, instead of wishing you had in the future.
Entry and Exit Door Devices
Another must-have keyless lock system is exit hardware, also known as panic hardware. All schools must have exit door devices, so students and faculty can safely evacuate the building in an emergency.
Exit doors have distinctive hardware — namely, a panic bar. The panic bar should be easy to reach and require no less than 15 pounds of force to release the latch. That way, younger students and disabled people can safely evacuate the building, too.
Exit hardware can operate either by mechanical or electrical dogging. The dogging feature allows people to open the exit door anytime, both from the inside and outside. Electrical dogging allows security personnel to integrate electrical access control system technology and disable the feature if the need arises.
Odds are, your school already has exit door devices that use mechanical dogging features. Instead of reinstalling completely new entry and exit doors, a licensed and experienced locksmith can upgrade the mechanical features to complement your other electrical access control systems, creating the best keyless entry system for your school.
How Ernie's Lock Company, Inc. Can Help Protect Your School
Since 1960, Ernie's top priority has been to provide quality, full-service locksmithing to the Maryland and D.C. Metro area. Our licensed locksmiths specialize in commercial services — and no job is too big or too small.
Like you, we value the safety of our communities' students and educators. Education is a valuable tool for success, and students of all levels should feel safe in their academic environment. We can equip your school with the most advanced and intelligent safety solutions, like our high-tech electronic access control systems.
We also offer other commercial services, such as:
New lock and key installations.
Lock and key repairs.
High-security safes and locks.
Emergency lockout assistance.
Master key services.
Rekeying, key cutting and key duplication.
Transparency is part of the promise we make to you. With us, you can expect upfront honesty about our service and prices, whereas our competitors will promise you inexpensive services, yet charge you costly post-service fees.
We stand behind our quality service so proudly that we offer all our clients a 90-day workmanship warranty.
Areas Ernie's Serves
Not sure if we can serve your area? Check with us online, or give us a call! Ernie's covers the following communities within the Maryland and D.C. metropolitan area:
Cheverly
College Park
Ellicott City
Greenbelt
Hyattsville
New Carrollton
Riverdale
Rockville
Washington, D.C.
When you call other companies, you can expect lengthy paperwork and a long wait time. Not with Ernie's. We make locksmithing easy and hassle-free for our customers.
We'll promptly send one of our licensed locksmiths to your school for an upfront quote on the ideal lock system for you. We use durable products — including industry-leading brands like Medeco, Corbin Russwin and Von Duprin — and top-tier customer service to deliver the best lock system to your Maryland or District of Columbia school.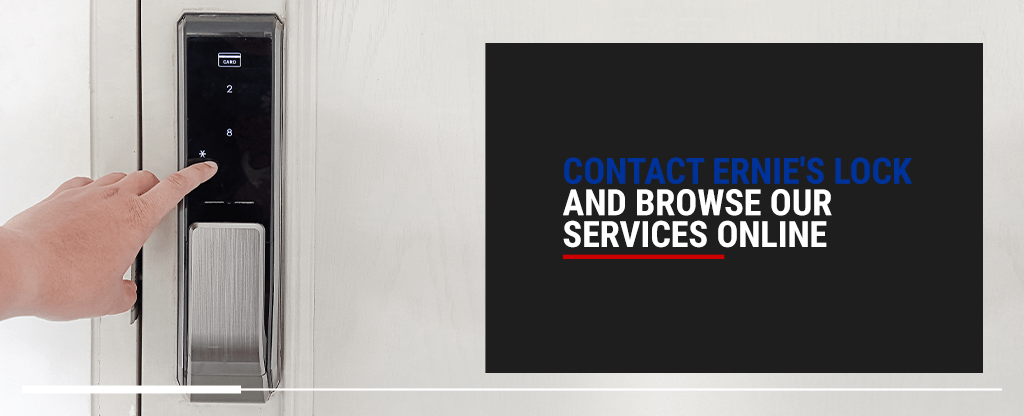 Contact Ernie's Lock and Browse Our Services Online
Ready to upgrade your school's lock system? Ernie's is eager to help. Contact our locksmiths online by visiting our website, or speak to a locksmith directly by calling Ernie's at 301-277-1126. Not sure if electrical access control systems are the best fit for your school? Ask us about our commercial mechanical lock systems, too!