Locked out of the House: What to Do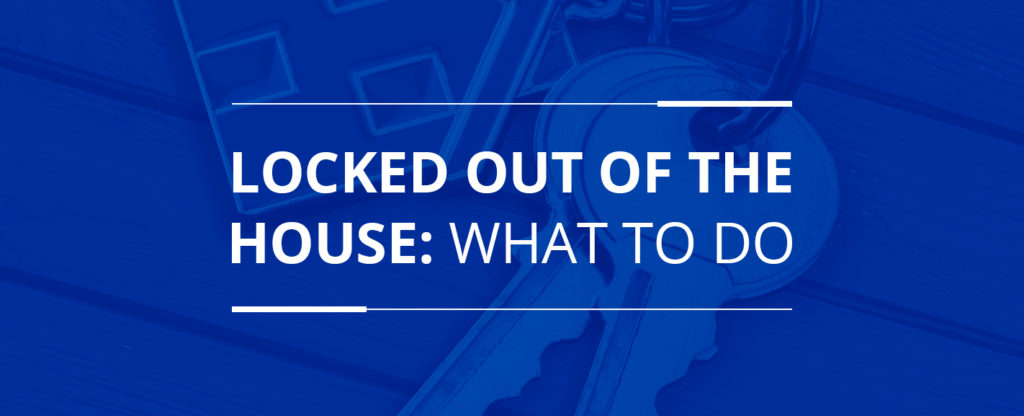 It's probably happened to all of us at one time or another: You walk up to the front door of your home or apartment and start rummaging through your pockets or purse. You can't find your key. Then it slowly hits you — you've locked yourself out.
Locking yourself out of your home can be a major problem or a minor distraction. That distinction largely lies with factors such as weather, time of day and if you are standing in front of a home, on the stoop of your building or inside facing an apartment. If it's later at night, during a cold winter month, locking yourself out can even be dangerous.
What to Do If You Are Locked Out of Your House
There's no use in crying over spilled milk. You need to get inside your home as soon as possible. Here are a few ideas on how you can do it.
1. Check Other Doors
The first thing to try is perhaps the most obvious. If you were absent-minded enough to wind up locked outside the house, there is a chance you may have forgotten to secure some of your other doors. So check all your home's other entry points: patio doors, garage doors and side doors. There may be an outside chance one of them is open.
Word of warning: Don't ever try to force open an outside door. Not only will you ruin the door, but you can also hurt yourself.
2. Check First-Floor Windows
If all the doors are locked, perhaps a window may be open on the first floor. Many people faithfully lock their doors, but don't necessarily latch the windows. If you find a window that's big enough for you to crawl through, carefully remove the screen and check what's on the inside before you enter the window. You wouldn't want to knock over your grandmother's heirloom vase, your TV or crush your plants.
Entering through a window is another way you can hurt yourself, so proceed with caution.
3. Find Someone Who May Have a Key
Depending on your living situation, your significant other, roommate or even a family member may have another copy of the key. Call them and tell them, "I'm locked out of my house." If you rent, your landlord will probably have an extra set of keys. You will have to arrange to meet them to pick them up. If you live in an apartment, visit the superintendent and let them know you locked yourself out.
Be sure you have identification, especially if you live in a large apartment complex. The managers may not know everybody who lives there and may require you to identify yourself before they open your door.
4. Ask for Help
If you've locked yourself out, it's unlikely you have any tools on hand that you might be able to use to get back into your home, such as a screwdriver, a coat hanger, bobby pins or other items you can use to open your door or a window in a pinch.
There's a good chance, however, your neighbors can help you out. Most neighbors are more than happy to loan these kinds of items to somebody who is locked out of their home. If it's a cold day or night, there is also a good chance they'll invite you inside for a coffee or a cup of hot chocolate. If they have some advice on how to get back into your home, listen.
5. Use a Credit Card
Some people frown upon this method, but it might work if you have a spring latch. If you have a deadbolt on your front door, credit cards won't work.
Choose a laminated card, which tends to work better because it will be more flexible. Don't use a credit card you rely on, because this approach can chew it up.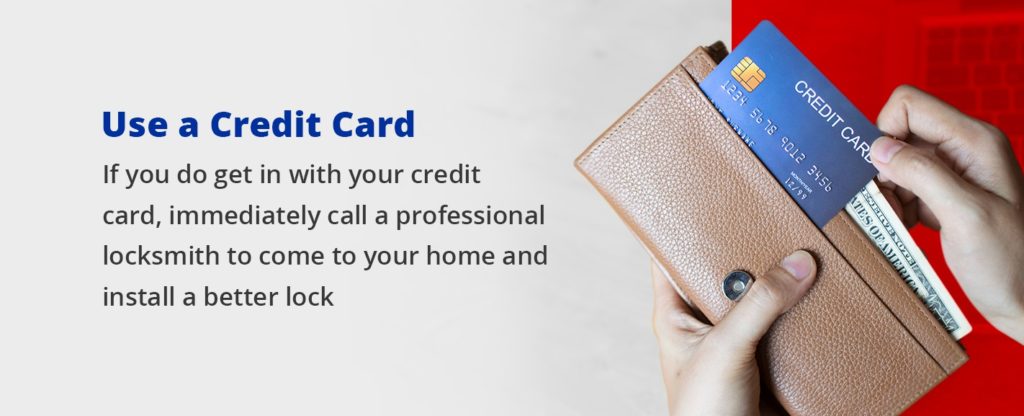 If you do get in, immediately call a professional locksmith to come to your home and install a better lock, because you just proved how easy it is for someone to get into your house.
6. Remove the Doorknob
Here is another idea not everyone recommends, but if you're desperate, it might work. You'll need a screwdriver to remove the exterior doorknob. You'll find a small latch near the base of the knob. Push it in and remove the knob. Then, use the screwdriver or your finger to pull the latch back.
7. Call a Locksmith
When all else fails, let a pro do it. Professional locksmiths help people out in emergencies all the time. They are quick and efficient and will have you back inside your home in no time. If you live within a 10-mile radius of our location in Riverside Park, Md., call us and say, "I've locked myself out of my house." We'll be there as quickly as we can.
How to Prevent Lockouts
After you're back in your house, the issue now facing you is how to ensure you don't get locked out of the home again.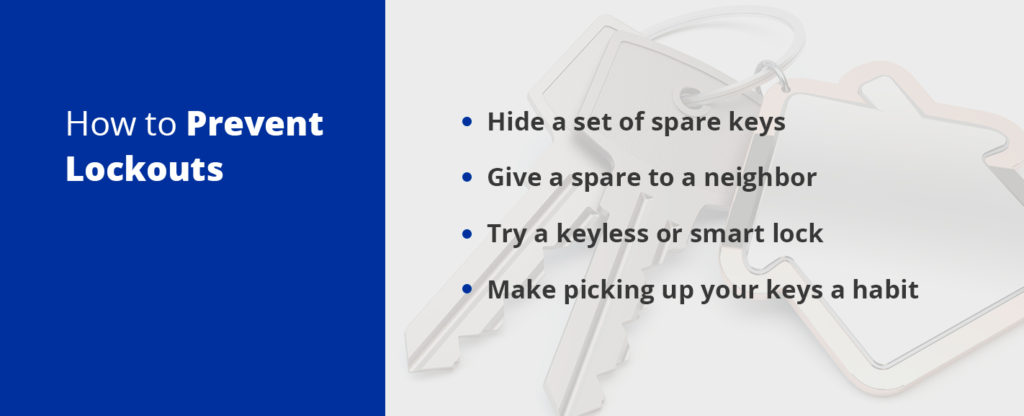 1. Hide a Set of Spare Keys
This method will only work with a reliable hiding place. That does not mean under the front mat, a phony-looking rock or your mailbox. Those are among the first places a potential thief would look for a key. Instead, select a tree in the back of your property, and hang your key on a nail on the side facing away from the road and the house. Another idea is to tape a spare key to your outside air conditioning unit, but in a place where it's easy to reach, you won't hurt yourself reaching for it and it won't damage the machine.
2. Give a Spare to a Neighbor
The person you ask to be the keeper of your spare key does not have to be someone next door. It could be anyone trustworthy in the neighborhood. Entrusting someone nearby with an extra house key is a smart idea, especially if you've locked yourself out more than once.
3. Try a Keyless or Smart Lock
These modern options are not as expensive as you might think. Keyless or smart locks can use codes or even an app on your smartphone to grant you access to your home. If you want this kind of lock, however, make sure you let a professional locksmith install it.
4. Make Picking up Your Keys a Habit
Try putting your keys with other items you always need to take with you when you leave the house, such as your wallet or phone. Another idea is perhaps to post a sign near or on the front door: "Did you remember the house keys?"
When You Need Residential Lock Services, Call Ernie's Lock
When you need a locksmith to help you get back into your home, contact Ernie's Lock. We've been helping people get back into their homes in Maryland since 1960. We provide emergency service within a 10-mile radius of our shop in Riverside Park.
We'll give you a free estimate over the phone. You can send us a picture, a text or an email that shows the problem, which helps us get a good idea of how we can help when quoting you a price. We also arrive as promptly as possible in an emergency like a lockout.
You can call us at 301-277-1126. We can also help you with your home's other security needs. Visit our contact us page, where you can leave us your information and a few details about how we can help.