When to Change Locks: Keeping You and Your Property Safe

You do what you can to keep your property safe. Whether you have a home, apartment or business, you lock your doors to protect yourself. In some cases, our locks can't always guard our homes. For many situations, you must change your locks so they can do their job correctly.
When you change your lock, you choose an entirely new lock system to replace your old one. Customize your security with a new lock system that fits the look of your property, all while keeping everything secure. But how often should you change locks?
We at Ernie's Lock Company know the importance of keeping your family, possessions or business safe. Below you'll find our recommendations of when to change your locks. Plan for life's surprises and prepare for when you may need to replace door locks. When it's time, contact us for help when you're unsure how to change the locks on your house.
Changing Locks on a New House or Property
One of the most common reasons to change your locks is purchasing a new home or property. Many new homeowners or individuals who have acquired a business neglect to replace their locks. Changing the locks on a new house or building, however, is a crucial step when you move. You care about your employees, your family members and everything else in your home or business, so take the first step in protecting them.
No matter how you acquired it, you may not know why it's necessary to change locks on a newly-purchased property. Don't take the chance of keeping the same locks. Consider these reasons for changing your locks:
The previous owner left a copy of their key with a friend, neighbor or family member.
The previous owner lost a copy of their key or had it stolen without changing the locks.
The previous owner still has a copy of their key that they did not turn over.
The property is a foreclosure with a disgruntled past owner who still has access to a key.
Construction workers who built your new house may have kept or copied a key.
Real estate agents or those with access to their keys could have access to your home.
Don't let any of the concerns above overshadow the exciting experience of moving into a new place or starting a new business. Whether you need commercial lock services or residential security, a reliable locksmith can protect you, your possessions and your property. Even if you know the past owners or contractors of your new property, it's not worth the risk. Individuals you do not know or trust could have had access to the property in the past. Save yourself future troubles by hiring a locksmith to replace your locks.
Be sure to examine your property, taking note of exterior doors with locks that a locksmith should replace for you. It's easy to focus on your front door, but people could have keys to different entrances. Don't allow for any cracks in the defense of your property. Whether you own or rent the building, you should take this precaution. Even those living in apartment complexes should change their locks upon moving in unless the landlord has already made replacements.
Evicting Tenants and Other Landlord Concerns

As a landlord, you have a responsibility to those living in your building. Tenants have the right to habitability, meaning a safe and livable space. One main feature of habitability is a door with a lock. Though it may seem simple, you should also take on the responsibility of maintaining those locks. Changing locks can keep you and your tenants safe after any number of situations and enforces habitability.
Take the precaution of changing locks after:
Evicting tenants: For the security of your building and future renters, you should change your locks after evicting a tenant. Evicted tenants may be defiant, and you don't want to risk letting them back into your building. While you can collect any keys they have, you never know if a copy of the key is somewhere out there. Be sure not to change the locks on your tenant's apartment before evicting them, though.
Tenants move out: Even if your renter moves out by choice and returns their key, they may have made a copy or given one to friends or family. Change the locks to protect yourself and future tenants. Let new renters know that you changed the locks to provide them with peace of mind and ensure them about habitability.
Tenants made copies of keys: Hopefully, your renters will be honest about making copies of keys. They should return copies made to you when they move. Sometimes, you won't be so lucky to have honest tenants. If your renter returns copies rather than original keys or if you suspect they made copies, change the locks to be safe.
Other security issues: Break-ins, breakups and other problems may require you to change locks for current tenants. Individuals living in your building may request to change their locks, or you may make the choice and notify them. No matter how you go about changing the locks, it will create a habitable and safe building for your tenants.
Seek out a locksmith for evictions and other issues to keep everyone in your building protected. Be sure to notify your tenants properly about any lock changes so you follow the law and enhance the safety of your building.
If you take the vital step of changing your locks as a response to the issues above, your tenants will feel that they can trust you. They'll want to live at your property longer since they know it is a safe place. The act of replacing locks shows your dedication to your tenants.
Lost or Stolen Keys
There's no need to worry if you misplace your keys somewhere in your home and find them later, but if you ever lose your keys while you're out and about, your first concern should be the security of your home or business. If you know someone stole your keys, contact your insurance company and the police to report the incident. After you've notified authorities, hire a professional locksmith to change your lock right away.
If you do lose your keys, it's time to act quickly and replace your locks. If you're considering the risk of leaving the locks the same, think about these possibilities:
Someone could have stolen your keys.
A stranger could recover your lost keys and attempt to use them.
If you don't have a copy of your key, you may be locked out.
While losing a key doesn't automatically mean someone will use it to enter your home or business, it's better to be safe. Individuals can take lost or stolen keys to a kiosk to make a copy of your key with no questions asked. Machines can duplicate keys marked "do not duplicate." There are also individuals who do not take care to read the message and who copy these keys. Even if you find your keys again or someone returns them to you, you should still take the safe route and replace your locks.
Regardless of how long you've lost your keys for, assume someone has found them. While you can't know for sure what they will do with your key, it's safer to assume the worst in this case. Since individuals with keys commit a percentage of home invasions and break-ins, you shouldn't take the gamble when you lose a key. But merely losing a key isn't the only event that makes your locks vulnerable.
Other Reasons to Change Locks
Just because none of the above has happened to you, there are still reasons to change your locks. Replace the locks in your home or business if you've experienced any of the following: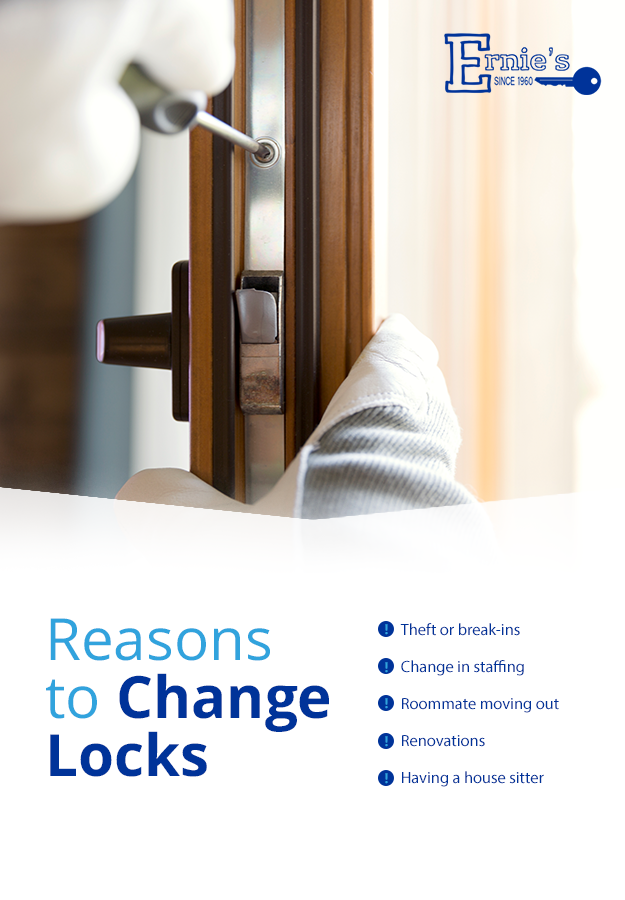 Theft or break-ins: If you have suffered a break-in, protect your home so you do not experience another tragedy. Check for dents or scuff marks to determine if a burglar has tampered with a security device. Damaged doorknobs and locks can become flaws in security down the line, which leaves you vulnerable to another incident.
Change in staffing: As employees leave your business, whether it was their choice or yours, consider changing your locks to keep your employees and property protected. Fired employees may become disgruntled individuals, and you do not want to take the risk of them accessing your business.
Roommate moving out: Even if your roommate moves out on amicable terms, you should still take the precaution of changing your locks. Breakups can create disgruntled former roommates, so be sure to take the same care if your relationship has ended. If you rent, be sure to speak with your landlord about making the change so you have their approval for a locksmith to come and secure your space.
Renovations: Inviting contractors into your home may have left you with a fresh new space, but you may also have a security risk on your hands. If you were away while contractors and other employees completed work, you likely provided them with a key. While we hope individuals who work in your home are professional and responsible, they could have made copies of your key. Consider changing your locks for the safety of your newly-renovated home.
Having a house sitter: Friends, family or neighbors can be helpful when you've been away for work or vacation, but unless you trust your house sitter completely, you may want to consider changing your locks. While changing them every time you go away may be a bit drastic, definitely change your locks if your house sitter doesn't return your key or returns a copy.
The events above depend on other individuals accessing your keys, but sometimes the locks may be the problem. Update your locks if you have:
Damaged locks: Broken or damaged locks cannot correctly guard your home. Intruders can easily tamper with damaged locks, and broken locks may not even function properly to secure your property.
Old locks: To prevent damaged locks in the future, keep track of when you've last changed your locks. If it's been some time, your locks may be weaker and prone to tampering. Maintain regular replacements, and purchase high-quality security installed by a professional to help your locks work their best.
Outdated locks: If your locks are old in appearance, you may want to update them to match the aesthetic or your home. Even modern doorknobs and locks may not match your plans for new decor, so feel free to have a locksmith update them. The new style will come with the added security benefit of a new and functioning lock.

Regain comfort, control and security in your home after you've changed the locks. Don't let events like these threaten your security or your property.
How Often to Change Locks
You should change your locks as often as you find yourself in the situations above. If you're lucky enough not to encounter those problems, you should still change locks on occasion. You don't need to change your locks every few months — unless that's how often events above happen to you. Consult with a locksmith to see if your locks should be updated.
You can prevent having to change your locks frequently by taking some precautions like:
Only give your key or copies of it to people you trust
Keep track of your keys and who has copies
Make a note of how many copies you've made of your key
Avoid putting your address on keys or keychains
Only give older and responsible children in your household a key
Purchase an electronic access system from a locksmith for businesses
Opt to have a locksmith rekey your locks instead of replacing the whole system
Treat locks and keys carefully as you would other mechanical objects
These steps can prevent you from changing your locks often, but try to have locksmiths install new locks in your home or business on occasion. Treat changing your locks as necessary upkeep of your property. Just as you change the batteries in your smoke detector to keep yourself safe, you should change the locks on your exterior doors. Your tenants, roommates or family members will appreciate the effort you've taken to protect them and their possessions.
Contact Ernie's Lock Company to Change Your Locks

If any of the above reasons to change locks apply to you, and you're in Prince George's County or nearby Maryland locations, contact us at Ernie's Lock Company. Our reliable and efficient lock services will help you secure your home and business. If you prefer to talk to someone in person, visit our physical location to learn about us and our services.
Whether you need a locksmith for evictions or you're changing locks on a new house, we're ready to help. Our licensed technicians can solve your residential or commercial lock and key problems in a timely and professional manner. Don't let strangers, past renters or disgruntled former employees make you fear your own property. Remember the above reasons to change your locks, and contact Ernie's today to secure your home or business.