How to Protect Your Car From Break-Ins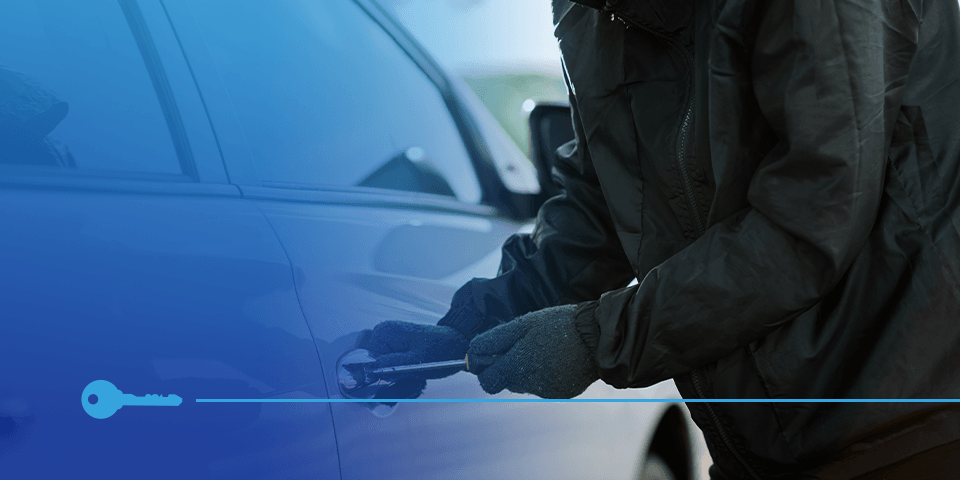 According to the National Highway Traffic Safety Administration, more than 1 million vehicles are stolen in the United States annually. Many people don't report the theft of personal belongings inside vehicles, making the frequency difficult to measure, though that number is probably considerably higher than that of car theft.
Whether you want to follow the best safety practices in general, you've heard about crime in an area or you've personally experienced theft and never want it to happen again, here are some of the best ways to protect your car from break-ins.
1. Park in Secure Areas
Many car break-ins happen where no one can see. When possible, park near other people or choose a lot with an attendant. Thieves want to avoid a crowd of onlookers, so they'll usually avoid busy parking lots with plenty of pedestrian and vehicle traffic.
Avoid parking along dark streets and in empty parking garages. Whenever possible, park your car in an area with ample lighting or plenty of street lamps. If you live on a private property, installing motion-sensor lights is often a smart move. These simple devices can help deter unwanted visitors and give you peace of mind.
2. Keep Your Valuables out of Sight
Whether you're leaving your car for a minute or parking it for the night, you shouldn't leave your purse, wallet or phone in plain sight. Bring these items with you or install window tinting treatments so it's more difficult for others to see what's in your vehicle.
Some thieves scope out parking lots, looking for targets who move items into their trunks before leaving to visit more stores. For this reason, it's a good idea to finish all your shopping at once or plan to move your vehicle after you've deposited something valuable inside.
3. Activate Your Car's Alarm System
Many car models have a standard alarm system that produces a loud, siren-like sound. Depending on the alarm system's features, you could program it to sound an alarm in case of vibrations or mild to excessive contact on the vehicle's windows, locks, headlights or tires.
Today's alarms are becoming more advanced and including more capabilities than ever. Some models even feature a kill switch, which can shut down the engine from a remote location.
3. Install a Vehicle Immobilizer
In some cases, a thief can hotwire your car to bypass your ignition. You can prevent hot-wiring with a vehicle immobilizer. These systems may include smart keys, authentication for wireless ignition and kill switches.
The immobilizers disable a vehicle to prevent someone from stealing your car. Typically, newer vehicles have this device built in. You can purchase aftermarket immobilizers for older vehicles.
4. Invest in Steering Wheel Locks
Consider installing a steering wheel lock if you'd like to use a visible anti-theft device. The device attaches to your steering wheel and prevents anyone without a key from driving away. To remove the device, someone would have to drill the lock out using power tools or picking skills.
A steering wheel lock can cause a would-be thief to turn away since stealing your car would require more time and effort and pose a higher risk of getting caught.
5. Always Lock Your Vehicle
The simplest and most important way to prevent car break-ins is simply keeping your windows closed and locking your car doors. Create a habit of locking your car, even when you're driving, and always check your car doors after parking to ensure they're secure.
You might also consider investing in other car locks, like brake locks. Since the systems require a key to unlock the device, they prevent a thief from stealing your vehicle. As a last resort, secure your car's wheels with wheel clamps and lug nut locks. This measure takes some effort, so it's only ideal if you're leaving your car for a long time or if you're in a high-crime area.
Contact Ernie's Lock Company for Lock Services
Are you looking for ways to increase your safety and protection? You can trust the trained, licensed and experienced technicians at Ernie's Lock Company to offer quality products and expert insight.
With experience stretching back to 1960, we're the professionals you can count on for quality solutions. Our team operates in communities throughout Maryland and the DC Metro areas, providing commercial, residential and emergency locksmith services.
To get started, contact our team to ask for more information or schedule a lock service today! Please give us a call if you need immediate services.