Why Mobile Locksmiths Aren't Always the Best Choice
Four Reasons Mobile Locksmiths Are A Scam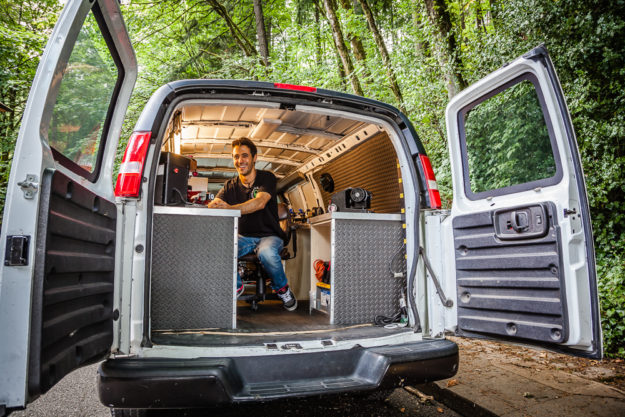 If it hasn't happened to you yet, it's only a matter of time until you'll find yourself locked out of your home or car. Your first instinct will probably be to pull out your smartphone and do a quick Google search for a locksmith in the area — and you'll likely be inundated with a long list of "mobile" locksmiths who promise fast service and unbelievably low prices. While this might sound like the perfect solution for your predicament, a mobile locksmith isn't always the best option. Here are four big reasons why.
Quality Can Be an Issue
Despite what their Google ads or websites might proclaim, not every mobile locksmith is a qualified professional with "years" of experience. In fact, many mobile locksmiths are poorly trained or have had no training at all. While you may get a quick response to your call, you might discover the person's remedy for unlocking your home or vehicle is to drill a hole in the door.
Inadequate Tools/Technology
Mobile locksmiths sometimes will attempt to portray their business as a storefront operation. However, most don't operate out of a physical structure — their car or van often serves as their workshop, warehouse and office. This makes it difficult for them to carry the advanced technological tools and resources you'd find in any reputable brick-and-mortar lock shop.
You Might Pay Dearly for Convenience
While most of us expect to pay a little more for convenience, you might be in for a heavy dose of "sticker shock" when you enlist the services of a mobile locksmith. Many will quote a low upfront price, then add a host of service fees after the fact that can bring the final cost to several hundred dollars.
Many Mobile Lock Services Are a Scam
Sadly, the mobile locksmith business is a haven for scam artists who aren't legitimate professionals. Red flags that can help you spot a locksmith scam include:
When you dial their phone number, you reach a call center that won't put you in direct contact with a locksmith
The locksmith arrives in a plain vehicle and isn't wearing a company uniform and name tag
The locksmith attributes any add-on charges to the age of your vehicle or poor condition of your home's door
The locksmith demands cash and refuses to accept credit cards or another form of payment
Call A Local Locksmith In MD For All Locksmith Needs
A better alternative to calling a mobile locksmith is to contact a reputable one in your area whenever you're locked out of your home, business or vehicle. If you need a dependable locksmith in MD or the Washington, D.C., area you can trust, make your first call to Ernie's Lock Co.